On the eve of International Women's Day, human rights activists from the Middle East gathered at the Nobel Peace Center. They shared their personal stories and discussed how women's voices can change the Middle East. One of them was Syrian journalist Zaina Erhaim, who told the story about how she trained Syrian women to become citizen journalists reporting from the ground.
"Most of them were house wifes who quit school at 15. Today, some of  them still work as reporters inside Syria."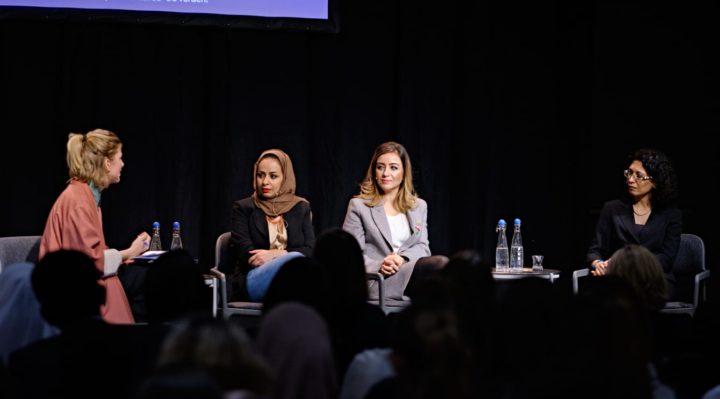 A full house at the Nobel Peace Center heard moving talks about activism, perserverance and resilience in countries where women'r rights activists and human rights defenders are faced with threats and persecution.
Yasmin Al Nadheri, who is running the grassroot organisation Peace Track, pledged for international support for a women's delegation to the peace talks in Yemen. "Women are doing a lot of work on the ground, but they are excluded from the official track", she said.
Azadeh Pourzand from Iran is running an organisation carrying the name of her father, Siamak Pourzand, who died in house arrest under the regime. "Meeting with fellow women acitivists from the region provides us with useful network, valuable friendship and ideas to bring back home, she said.
The event was a co-operation between Oslo Women's Rights Initiative, Civita and the Nobel Peace Center. Oslo Women's Rights Initiative is a network of activists and experts founded on the idea that collaboration is key to supporting universal gender equality. The Initiative was started in Oslo last year, and has members from Iran, Saudi Arabia, Syria, Jordan, Yemen, Libya, Turkey, Iraq and Lebanon. The network will meet for workshops in the next couple of days.
"Oslo provides the Initiative a safe space for our network members to freely discuss issues and collaborative project ideas without fear of threats and persecution" said founder Maryam Nayeb Yazdi.
"Sharing personal stories on a public stage allows the audience to make a human connection not only to the speakers but to the broader issues discussed in the talks" .
(nobelpeacecenter)