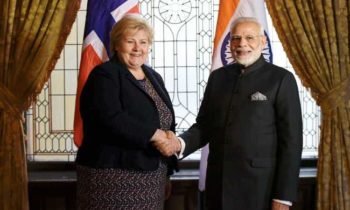 Indian Prime Minister Narendra Modi today held bilateral meetings with his counterparts from Finland, Denmark, Iceland and Norway and discussed ways to enhance ties with these Nordic countries in key areas such as trade and investment, and renewable energy.
PM Modi met the leaders of the four Nordic countries on the sidelines of the India-Nordic Summit in Stockholm.
Prime Minister Modi met Danish Premier Lars Lokke Rasmussen and held talks on renewing and enhancing cooperation. The two leaders expressed their mutual desire to take the relationship forward, External Affairs Ministry Spokesperson Raveesh Kumar said.
After the bilateral meeting between PM Modi and PM Rasmussen, documents were exchanged between the two sides in areas of animal husbandry, dairying and urban development.
"Glad to have met Prime Minister Lars Lokke Rasmussen of Denmark. Our talks were productive and extensive, aimed at strengthening relations between our countries," PM Modi tweeted after the meeting.
Prime Minister Modi also had an "excellent meeting" with his Finnish counterpart Juha Sipila. The two leaders discussed enhancing cooperation in trade and investment, renewable energy, space, waste management, start-up and education, Mr Kumar said.
"Prime Minister of Finland, Mr. Juha Sipila and I met in Stockholm today. We had excellent discussions on deepening avenues of cooperation between India and Finland," PM Modi said in a tweet.
 PM Sipila also tweeted about the meeting, saying, "Recalled our first meeting in Mumbai in 2016 and had concrete negotiations how to promote our cooperation further in energy, space, education."
PM Modi also met Iceland Premier Katrin Jakobsdottir on the sidelines of the India-Nordic Summit.
"We deliberated on ways to boost economic and people-to-people relations between our nations," PM Modi said after the meeting.
"PM urged Icelandic companies to look at India as an investment destination in blue economy and geothermal energy and strengthen cooperation in education, tourism and culture," Mr Kumar said of the meeting between the two leaders.
The two leaders reviewed the full range of India-Iceland relations during their meeting, the PMO said.
Later, PM Modi also met his Norwegian counterpart Erna Solberg.
"Had a wonderful meeting with Prime Minister Erna Solberg. There is immense potential to boost relations with Norway especially in areas such as innovation, trade and clean energy," PM Modi said after the meeting.
"A wonderful meeting between PM Modi and Erna Solberg. India values the deep-rooted friendship with Norway," a tweet on the PMO Twitter handle said.
Prime Minister Modi had an engaging interaction with Premier Solberg on trade and investment, shipping and port-development, blue economy, renewable energy, health, IT and green transport solutions, Mr Kumar said.
The Nordic countries comprise Denmark, Finland, Iceland, Norway and Sweden.
(NDTV)