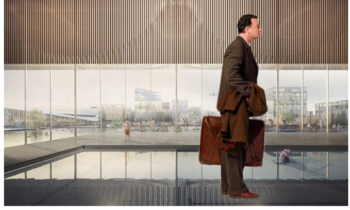 Imagine an airport you never want to leave. Architects are at work at making the wildest dreams of a captive audience of travelers into reality as part of an effort to boost Oslo's international profile and local economy.
Plans for the 43 million-square-foot city adjacent to Oslo Airport Gardermoen were recently revealed by Haptic Architects and the Nordic Office of Architecture, according to Travel + Leisure. The vision for the 260-acre site includes about 11 million square feet of new buildings spanning the range of industries from hotels to cultural facilities, and amenities like swimming arenas, facilities for meetings and other business-related services, rock climbing walls, a scenic cycling path, and parachute rides — all no more than a short train ride away from the airport.
But the new Oslo Airport City is not just meant for those flying in and out — there will be homes and schools included in the scheme too. The airport's surrounding municipality, Ullensaker, is one of the fastest growing areas in Norway and the government is looking to develop infrastructure and a strong local travel-reliant economy for residents.
"What we're doing is creating an airport city with urban qualities that include streets, squares, and walkable spaces not blocked off by cars, in addition to building on the various sport and leisure qualities Norwegians are quite into," said Haptic's director Tomas Stokke to the publication.
Inspired by the government's plan to begin flying electric planes by 2030 at the latest on commercial routes, the new airport city will incorporate a number of "smart" and sustainable features, including driverless cars — no other vehicles will be allowed in the mostly pedestrian city — and be powered by solely renewable energy sources.
The entire project is expected to take 30 years to build with the first phase of buildings scheduled to be completed in 2022. [Travel + Leisure] — Erin Hudson
(therealdeal)