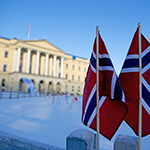 Oslo has stripped London of its title as the most expensive capital in which to stay in Europe.
Data has revealed that over the last year the hotel average room rate across Europe has increased, while rates in major cities in the UK have declined.
The research, commissioned by hotel management solutions company HRS, saw a 7% decline in room rates in the UK compared with the same period last year. Oslo, however, has seen a 70% rise in rates since last year, making hotel rooms around £40 more expensive than London.
Dublin also overtook London, ranking as the second most expensive European city to stay, with rooms averaging £15 more than in London.
Within the UK, London is still the most expensive place to stay, with rooms averaging at £148. Manchester follows with £100 per night, and Bristol is in third place with £98.
Jon West, managing director of HRS for the UK and Ireland, said: "With UK room rates dropping across the board in Q2 2016 by an average of 7% against the same period the previous year, this is certainly something to keep an eye on, but it could present an opportunity for UK tourism and the business travel industry. For business travellers and holidaymakers alike, this should make the UK more appealing as a place to stay, as for many years now it's been renowned for being so expensive."
The largest decline in hotel room rates was seen in Istanbul, which showed a 20% decrease and an average night costing £65. Moscow's rates dropped by 16%, and Milan followed closely with a 14% drop.
Globally, hotel room rates increased in major capital cities compared with 2015, which suggests an uplift across the global marketplace. New York retains its position as the most expensive city in the world with an average room per night costing over £200.