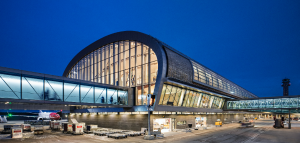 Oslo Airport has officially opened its new 115,000 square metre extension, which is set to increase capacity at the facility to 32 million passengers.
The extension features a new 300 metre-long pier, 11 new gates, and new retail and restaurant outlets.
Representatives from the government, Norwegian aviation authorities and other specially invited guests were gathered today for the official ceremony at Oslo Airport.
The expansion of Norway's main airport was officially opened when the minister of transport and communications, Ketil Solvik-Olsen, and the chief executive of Avinor, Dag Falk-Petersen, tied together a ribbon, to symbolise that 'Avinor ties Norway together'.
Solvik-Olsen told the attendees that Norway's main airport is important to the whole nation.
He added: "Norway depends on a well-functioning main airport.
"We now have a large international airport that will be the pride of the entire nation.
"This is a state-run flagship project that has been on schedule and within budget.
"Avinor can safely be proud of the work put into this expansion."
Enhanced levels of insulation mean the project has achieved passive house level performance standards.
Energy consumption in the new expansion has been cut by more than 50 per cent compared to the existing terminal.
Falk-Petersen commented: "We have invested NOK14 billion in this expansion, and it will make Norway more competitive on an international level.
"It is important for Norway to have a well-functioning hub, which Oslo Airport is to us, and the profit from this is used to finance the rest of the Norwegian aviation network.
"We are very proud of the fact that the expansion has been completed without really affecting the passengers, and that Oslo Airport has been named the most punctual airport in Europe three times during this period."
The reason for the expansion is increased traffic and a prognosis that indicate a higher rate of growth in the years to come.
With near double the space in the terminal now, managing director Øyvind Hansaas hopes that passengers will be satisfied and proud of their new airport.
"We have been looking forward to this day for years, and now we can finally announce our official opening.
"This paves the way for great customer experiences, with more room, restaurants and shops.
"We now offer even better airline facilities, and this hopefully means more direct routes to large and important markets around the world," concluded Hansaas.
(breaking travel news)