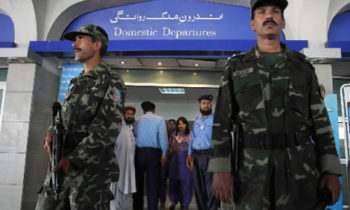 A female Pakistani immigration officer of the Federal Investigation Agency (FIA) was caught on camera torturing a Norwegian lady over a petty issue at the Benazir Bhutto International Airport on Saturday morning.
According to reports, Norwegian national Haseena Begum had to board a plane to Norway at Benazir Bhutto airport along with her daughter Fouzia and Fatima Umer.
In an interview to Express Tribune, Haseena detailed that the flight had to take off at 12:45 pm and prior to that her daughter Fouzia Umer went to the restroom after obtaining her boarding cards and handing over luggage. As she came out of the restroom, Fouzia asked for some toilet papers from a female airport staff.
'The request angered the FIA officer Noshila, who replied that she was from the immigration department and had nothing to do with the availability of toilet papers that was apparently a menial job of cleaners' Haseena said.
Responding to the somewhat rude reply of the immigration official, Fouzia asked her not to misbehave with travellers. The two engaged in a verbal spat after this.
Haseena claimed that Noshila allegedly threatened that she would not let them head to Norway.
'As we stood in the queue for our immigration clearance, the FIA woman came and snatched our passports and boarding cards. She tore the boarding cards,' Haseena claimed.
She added that as her daughter resisted, Noshila with help of two other female officials dragged her daughter to a room where they allegedly tortured her. Eyewitnesses claimed that the passengers and FIA officials also allegedly slapped each other.
Sensing the heat, FIA staff and the Airport Security Force intervened and rescued Fouzia and handed the women over to Airport police.
Fouzia, who had received minor injuries to her head and neck during the brawl with FIA officials, was given first aid by the Civil Aviation Authority and then was to the Benazir Bhutto Hospital for treatment.
As news of the incident made waves across the country, the FIA immigration department released a statement claiming that the three female passengers had misbehaved with one of their staff.
Moreover, FIA Rawalpindi Zone Director launched an inquiry into the incident whereas Interior Minister Chaudhry Nisar taking notice of the incident sought a report about the incident.
Later at BBH Khalid Umer, Fouzia's father, told the newsmen that he would appeal to Interior Minister Chaudhry Nisar to look into the shameful incident.
Being a Norwegian national, Umer said, he would also take up the issue with Norwegian authorities. Regarding his country of origin, Umer said after the incident, he was so broken that he would never return to Pakistan.
(N.sethurupan, dailypakistan)