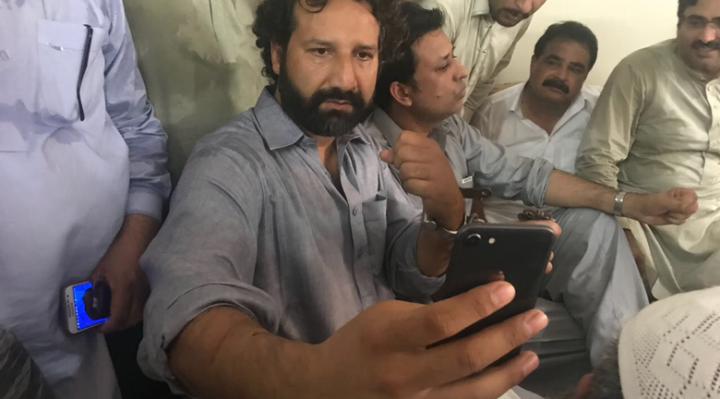 Police on Monday released Kadafi Zaman, a Norwegian journalist of Pakistani origin, who was arrested on July 13 at the time of a clash between the police and PML-N workers who were on their way to Lahore to receive Mian Muhammad Nawaz Sharif and Maryam Nawaz upon their return from London.
Kharian area magistrate Shumaila Sheikh ordered the release of Zaman along with three PML-N men, including ex-MPA Shabbir Kotla, after acceptance of their bail. They were arrested after registration of a criminal case against them on multiple charges framed by the Kakrali Police Station of Kharian tehsil on July 13.
Norwegian honorary Consul General Naveed Fareed held a meeting with Kadafi Zaman at the police station prior to his appearance in the court. She was present as the court heard his bail plea.
Zaman, who works with TV2 of Norway, was said to be present on the spot as PML-N's Shabbir Kotla led a group of party workers. The workers crossed many barricades before the police baton charged them. Arrests followed.
The police had booked at least 40 nominated and dozens of unidentified workers of the PML-N. The list of those arrested also included Kadafi Zaman, who happens to be a cousin of both Shabbir Kotla and ex-MNA Abid Raza Kotla. The two Kotlas are the PML-N candidates for PP-33 and NA-71, respectively. The suspects were booked under charges of attempted murder, tearing police uniform, snatching four mobile telephones from the police and interference in the government function.
Ms Siv Kaspersen, Charge d'affairs, Royal Norwegian Embassy in Islamabad, said: "We were in contact with Pakistani authorities to get access to Kadafi Zaman and we got in touch with him and our consular general also met him besides observing the court hearing on Monday. We are satisfied that he got released on bail".
Earlier, Pakistani embassy in Norwegian capital Oslo had also stated that it was working to get Zaman released from custody.
According to the Norwegian media, Zaman had informed his employer in Oslo that he was detained despite informing the police that he was performing his job as a journalist.
"I witnessed extremely violent behaviour from the police who used batons to curb the demonstration," he was quoted as saying by TV 2. "I was attacked and bludgeoned with batons despite informing (the police) that I was from the press. He told his employer that he had been put in a cell along 21 others.
A statement by Kadafi Zaman's employer had said: "TV 2 reacts strongly to the fact that our reporter is arrested when he tries to do his job as a journalist. This is very grave…"
"According to normal practice foreign journalists (when reporting in Pakistan) get in touch with the police through their respective embassies in Islamabad, In this case that practice was not followed" alleged Asad Gujjar a spokesman for Gujrat police. "Had he (Zaman) introduced himself as a journalist, the police would not have arrested him," he added.
(dawn)