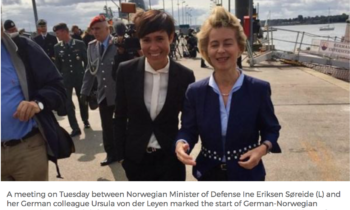 Norway and Germany have officially marked the start of a long-term agreement for cooperation on submarine and naval missiles programs, the countries announced on Tuesday.
The agreement was originally signed in early February, but a meeting on Tuesday in Germany between representatives of the two countries marks the formal start of their work together.
"In addition to cooperation on new submarines and naval missiles, we will strengthen our Navy-to-Navy cooperation," Norwegian Defense Minister Ine Eriksen Søreide said at a bilateral meeting in Norway this week to mark the start of cooperation.
"We will also cooperate on naval research and technological development. This cooperation will strengthen our defense industries, and will be very important and beneficial for both our nations."
Central to the accord is the joint procurement of identical submarines, along with cooperation on training, exercises, spare parts, and maintenance of the vessels. The submarines will feature combat management systems from a joint venture by Kongsberg, tkMS and Atlas Elektronik.
"The cooperation will create opportunities for a number of companies in Norway. It will also have a positive impact on the development of high-tech competence, and for the export potential of Norwegian defense products," said Eriksen Søreide.
A request for quotation for the submarines was issued to Germany's ThyssenKrupp Marine Systems, which Søreide said will bring closer a contract for new submarines in 2019.
(UPI)