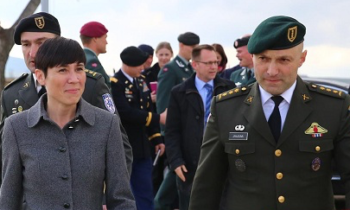 Norwegian Defense Minister Ine Eriksen Soreide arrived on her first official visit to Tbilisi on April 3 and met her Georgian counterpart Levan Izoria and President Giorgi Margvelashvili.
During the meeting, the two Defense Ministers spoke on security environment in the country, Georgia-NATO relations, Norwegian-Georgian defense cooperation and defense reforms in Georgia.
Minister Levan Izoria invited his Norwegian counterpart to Georgia Defense and Security Conference in the capacity of a keynote speaker. The sides also signed 2017 Bilateral Cooperation Plan.
Speaking at the joint press conference on the same day, the Norwegian Defense Minister underlined that Georgia is "a highly-valued NATO partner" and that the Alliance is "looking into how it can enhance cooperation even further." "We commend the steps that Georgia has been taking in order to both do reform and to be a very good and reliable partner," she said.
Minister Ine Eriksen Soreide also reaffirmed "Norway's full support for Georgia's sovereignty and territorial integrity."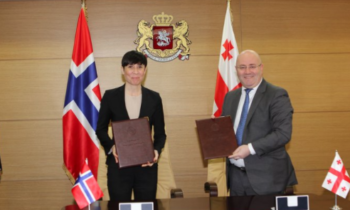 She also touched upon the bilateral defense cooperation and stated that Norway would like to further develop "longstanding relationship" between the Norwegian Home Guard and the National Guard of Georgia. "We have added one new item to our bilateral list this year that is advanced distance learning," the Norwegian official added.
Soreide spoke on the possibility of Georgia's involvement in NATO's new initiatives. "One of the things that I have raised with Mr. Izoria is to make use of the experiences Georgia now has. We, in Nordic-Baltic context, are looking into ways of 'exporting' JTEC (the Joint Training and Evaluation Center) to the other countries as well. And we would very much like to bring Georgia on board in doing that. I will raise this with my Nordic colleagues when we meet in May and try to find the formats where Georgia also can participate as an associated member of that group," the Minister said.
Following the press conference on Monday, the Norwegian Defense Minister visited the NATO-Georgia Joint Training and Evaluation Center (JTEC).
(civil)