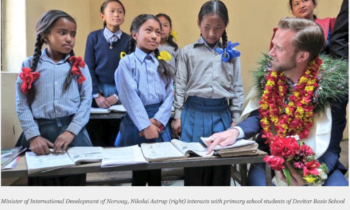 Minister of International Development of Norway, Nikolai Astrup has said that Norway government wants to partner with Nepal for its educational development.
The Norwegian Minister said so while inaugurating Devitar Basic School at Loting, Chilankha of Bigu Rural Municipality on Wednesday. The school building was constructed with the support of the Government of Norway.
On the occasion, he said that Norway would continue to provide support to Nepal under any circumstances for the development of education sector and for the all-round development of children.
He also interacted with the teachers, students and members of the school management committee.
CWIN Nepal and Gramin Bikas Tuki Sangh have been carrying out reconstruction of 22 schools in Bigu and Kalinchok Rural Municipalities in Dolakha district with financial assistance provided by the Norwegian Embassy. The school buildings were damaged by the April 2015 Gorkha earthquake.
Reconstruction of 12 out of the 22 schools has been completed, CWIN Nepal programme manager Rabindra Parajuli said.
Meanwhile, the Norwegian Minister also held discussion with the people's representatives of Bigu and Kalinchok Rural Municipalities.
On the occasion, he inquired about the federalism, good governance and development model incorporated in the Constitution of Nepal as well as about the effectiveness of the assistance provided by the Norwegian government, Chairman of Bigu Rural Municipality, Yudhisthir Khadka said.
The Norwegian Minister was welcomed by Province Assembly member Pashupati Chaulagain, Khadka and the district-based government representatives when he arrived in Bigu to attend the programme.
Province lawmaker Chaulagain urged the Norwegian Minister to continue their support to Nepal and also thanked him for the same.
Minister Astrup has arrived in Dolakha in course of his maiden foreign visit to South Asian countries after two months of taking charge as the Minister of International Development, the Embassy of Norway has stated. The Norway government is spending Rs 300 million for the reconstruction of 22 damaged school buildings in Dolakha.
(thehimalayantimes)