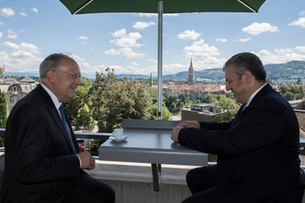 EFTA states Switzerland, Norway, Iceland and Liechtenstein have signed in Bern a free-trade agreement with Georgia, represented by Prime Minister Giorgi Kvirikashvili.
Swiss Economics Minister Johann Schneider-Ammann, who holds the rotating Swiss presidency this year, received Kvirikashvili for an official working visit on Monday. Bilateral talks focused on efforts to promote peace in the Caucasus and Switzerland's cooperation strategy for the South Caucasus region, a longstanding priority in its development cooperation programme.
The particular focus was on economic development and employment, public services and human security, according to a government statement. Schneider-Ammann said Switzerland would continue its involvement in South Caucasus and Georgia beyond the Cooperation Programme 2013-2016.
He also stressed that Switzerland was ready to support Georgia's efforts for better relations with Russia. As part of its protecting power mandate, Switzerland has represented the interests of Georgia in Moscow and the interests of Russia in Tbilisi since March 2009.
The delegations also discussed the important role of the Organization for Security and Co-operation in Europe (OSCE) in trouble spots in the region.
The four EFTA states also opened official free-trade negotiations with Ecuador, which was represented, among others, by Minister for Foreign Trade Juan Carlos Cassinelli.
Further planned talks at the EFTA ministerial conference in Bern concerned ongoing negotiations with India, Indonesia, Malaysia and Vietnam.
The European Free Trade Association (EFTA): An intergovernmental trade organisation and free trade area. Members are Iceland, Liechtenstein, Norway and Switzerland.