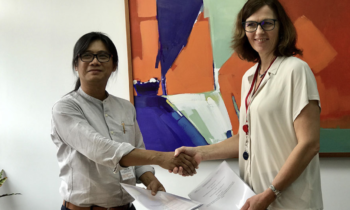 Norway is supporting The Irrawaddy news organization to strengthen its coverage of women, peace and security issues over a 19-month period as part of Norway's commitment to the implementation of United Nations' Security Council Resolution (UNSCR) 1325 in Myanmar.
The resolution reaffirms the important role of women in the prevention and resolution of conflicts, peace negotiations, peace-building, peacekeeping, humanitarian response and in post-conflict reconstruction, and stresses the importance of their equal participation and full involvement in all efforts for the maintenance and promotion of peace and security.
The Irrawaddy's founder and editor-in-chief Aung Zaw and the Royal Norwegian Ambassador in Yangon Tone Tinnes signed an agreement to implement the project on July 7.
Starting this month, the project will focus on mainstreaming ethnic women's views and concerns related to peace and security, so that their voices will be heard and taken into consideration in the ongoing peace-building process in Myanmar.
The Irrawaddy will invest in building public awareness and understanding around women's involvement in the peace process. It will support and encourage the airing of the views of women and girls on the challenges they face and the solutions they seek in relation to gender issues and on all matters concerning peace and security.
The new project follows earlier support from the Norwegian Embassy to The Irrawaddy news organization for coverage of women and gender issues.