The representative of Norway said that they are deeply alarmed by the ongoing clashes along the borders between Armenia and Azerbaijan, including reports of artillery strikes targeting civilians and civilian objects inside Armenia. Her remarks came during the UN Security Council meeting.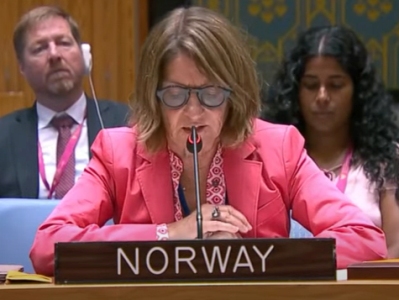 She noted that Norway recognizes the sovereignty and territorial integrity of both Armenia and Azerbaijan within their internationally recognized borders. They continue to support the dialogue between Armenia and Azerbaijan on the implementation of the November 9, 2020 ceasefire agreement. They also welcome the efforts of the European Union and the United States to help advance the negotiations as well.
The Mexican representative noted that the parties must respect and fully implement the provisions of the Nov. 9, 2020 agreement. They support the mediation efforts in the region, especially those between Russia and the EU… Mexico calls on both Armenia and Azerbaijan to show political will and to return to the path of diplomacy.