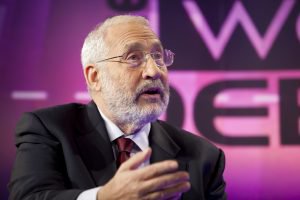 Joseph Stiglitz, Nobel Prize-winning economist, has made the claim that bitcoin 'ought to be outlawed,' at a time when the digital currency is experiencing record highs.
In a Bloomberg Television interview, the 74-year-old American economist and professor at Colombia University, said:
It seems to me it ought to be outlawed. It doesn't serve any socially useful function.
His comments come at a time when bitcoin is continuing to surpass expectations from all sides. Just yesterday, it was reported that the digital currency has passed the historic $10,000 milestone and today it went even higher to reach over $11,000 for the first time, pushing its market total to $185 billion.
Yet, despite these record achievements, Stiglitz is of the opinion that the only reason the digital currency is doing so well is down to the fact that it has the 'potential for circumvention, lack of oversight.'
It's a bubble that's going to give a lot of people a lot of exciting times as it rides up and then goes down.
Stiglitz has, in the past, expressed his views about the digital currency, stating in 2016 that the U.S. government had 'shut down' bitcoin. At the time, he said:
The main use of bitcoin has been to circumvent tax authorities and regulation. I think the U.S. government did the right of thing of shutting or trying to shut it down and I think effectively…it has done that.
Interestingly, since then his outlook toward the crypto market has somewhat shifted, if only slightly. In January, while speaking at the World Economic Forum's Annual Meeting in Davos, Switzerland, he said that the U.S. should phase out fiat currency and move toward the use of digital currencies.
The topic of discussion at the time focused on the issue of corruption, tax evasion and tax avoidance. According to Stiglitz, the phasing out of money and introducing digital currency has 'benefits that outweigh the cost,' in the long term.
Harvard professor and economist Kenneth Rogoff has also said that cash provided the ideal avenue for tax evasion, and that the time was now to reduce fiat money.
No doubt Stiglitz's most recent comments will raise a few eyebrows, and is unlikely to go down well bitcoin enthusiasts; however, given the upward trajectory that the digital currency is currently on, it's not likely that it will have much impact on where the market is heading.
(N.Sethu)