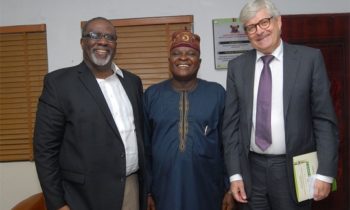 The Nigerian-Norwegian Chamber of Commerce (NNCC) has been launched in Lagos to promote socio-economic relationship between Africa's biggest economy and the Nordic country.
The chamber, according to its promoters, will essentially evolve new communications channel between Nigeria's business corporates and their Norwegian counterparts.
Described as the first such bilateral chamber between an African country and Norway, NNCC is also expected to interface with relevant organizations in both economies to promote socio-cultural ties in the two countries.
NNCC's inauguration was performed in Lagos by the Ambassador of Norway to Nigeria, Rolf Kristian Ree, as part of the ceremonies marking the National Day of Norway.
At the event, Ree said: "The relationships between Nigeria and Norway are strong and good. They are growing. Nigeria is our largest trading partner on the African continent. However, Nigeria Norway relationship should not be reduced to profitable business opportunities only," saying it should go beyond the present level of interaction to promote ethical and mutually beneficial economic, social and cultural relationships between the two countries.
On the strength of these reciprocal expectations, the Chairman of the chamber, Chijioke Igwe said the body will be undertaking economic and business research; promoting business development by aiding and supporting business entities' identified interest areas through partnerships.
"It will create and provide action programmes designed to identify investment opportunities and put prospective partners together. The chamber will also promote trade shows, educational, civic, social and cultural programmes and fairs to foster business interaction, cultural and ethical value assimilation between business prospects.
"Businesses from both countries stand to derive immense benefits from the activities of the chamber. Enterprises that want to see their business grow into Norway and from Norway into Nigeria may never see a better opportunity to launch such initiatives than through the platform NNCC provides," Igwe added.
So far, the founding members operate in the power; oil and gas; agriculture; construction; telecommunications; consultancy services; and other sectors in Nigeria.