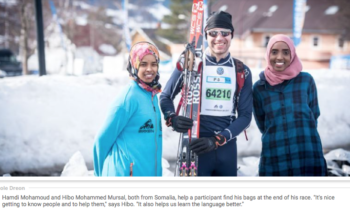 LILLEHAMMER, Norway — Every day she goes to class, Hasti, a refugee from Kabul, Afghanistan, tells her teacher, "Thank you."
Every day.
"Thank you. Thank you. Thank you."
"You wouldn't understand," she explains to me the first time I meet her. "You haven't experienced this situation we went through. It was so difficult."
Hasti, who asked that her last name not be included, is one of the approximately 65 refugees the ski town of Lillehammer takes in every year, from some of the most volatile places on earth. Over the past year, these refugees have come mostly from Syria, Somalia and Afghanistan.
Upon their arrival, refugees go through a two-year program in which they learn the Norwegian language and other skills to adapt to a new country. What makes the program unique in Lillehammer — the site of the 1994 Winter Olympics and a continual hotbed of winter sports events — is that many of the refugees volunteer at those sporting events. The refugees get a chance to interact with locals, practice language skills and watch world-class competition that's a part of Norwegian life. And volunteering, especially in the sports community, is also an essential part of Norwegian culture.
"Probably one of our most distinct and popular words is 'dugnad,' which means 'to volunteer,'" says Jon Erik Rønning, the director of the town's refugee program. In 2004, "dugnad" was elected as Norway's national word. When members of sporting clubs volunteer at events, they earn 100 kroners per hour, which is approximately $12 an hour. That money is then given back to their respective clubs. When the refugees volunteer, they are also earning money, which will go toward a field trip to Oslo, the country's capital, this spring.
At this year's Birkebeinerrennet — the oldest and most famous Nordic ski race in the world — I talked with Hasti and a group of other female refugees as they worked among 1,500 volunteers at the race. I was able to visit the school the women attend as well, and through these visits, I learned the harrowing but incredibly inspiring stories of how each landed in this small ski community in Norway:
Hasti, 26, from Afghanistan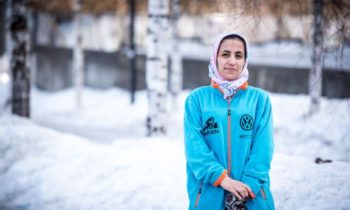 When she was a young girl, Hasti only went to school for two years before it became too dangerous for her to go outside. "It was more safe for me to be in the house," she says. Even for small errands, it was her brother who was sent to the market. Under Taliban rule, which lasted until 2001, the mobility of women was so restricted it was likened to "house arrest." When she was 18, Hasti and her new husband left Afghanistan in search of a better life. First they lived in Iran, before they made the perilous voyage across the Mediterranean Sea to Europe. "We heard many people died out at sea," said Hasti, who was traveling with her small infant daughter, "but what can you do?"
When she and her family finally reached Norway, they waited six years for asylum. "We packed our bags every night because we didn't know if the policemen would come to send us back. We wouldn't even buy groceries. If they deported us, we were going to have to go back to Afghanistan with [our] three girls."
Finally, two years ago, Hasti's family — which had grown to include three daughters — was relocated to Lillehammer. She is now in school and hopes to one day become a nurse.
"It's important for you to know that my husband and I supported each other the whole way," Hasti says. "He likes that I study to become a nurse, and he supports me. We are thankful to Norway for giving us a good life."
Hibo Mohammed Mursal, 18, from Somalia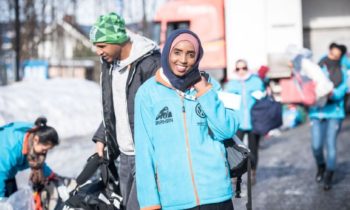 Hibo Mohammed Mursal grew up in Somalia, where rivaling clan warlords, pirates and the Al-Shabaab militant group have caused violence for decades. Hibo's mother wanted a better life for her three daughters, but her husband had left the family when the children were very young, so she had to make the journey to Europe alone. "She's a wise woman," Hibo says about her mother, who has no formal education. "She's been through a lot."
Hibo's mother left Somalia in 2012. For three years, Hibo and her two sisters, Raha and Faiza, moved to Addis Ababa, Ethiopia, where they lived alone, waiting for their mother to send for them. Finally, on January 21, 2015, the family was reunited at the Oslo Airport in Norway, and they soon resettled in Lillehammer.
Hibo now speaks Norwegian and English, which she learns in school, and she's one of the hardest working students in her class. "I give all my time to try and be somebody in my life," Hibo says. "I try my hardest to be the most clever girl in the class."
Wahsah Paw, 21, from Myanmar (also known as Burma)
From the age of 1 until she was 15, Wahsah Paw lived in a refugee camp in northern Thailand called Mae Ra Moe. Since 1995, the camp has housed refugees from the Karen State in Myanmar. Wahsah didn't know her father growing up. When she was 8, her mother left the camp for unknown reasons, orphaning both Wahsah and her older sister, who is deaf.
At age 16, Wahsah and her sister came to Lillehammer — which has a history of accepting refugees from Myanmar — through an agreement with the United Nations. She now attends high school in Lillehammer and is learning both English and Norwegian. Her sister lives in Oslo with members of a deaf community, and they see each other during the holidays. Since moving to Lillehammer, Wahsah's mother has reconnected with her again through Facebook.
Lwam Tesfay Afewerki, 19, from Eritrea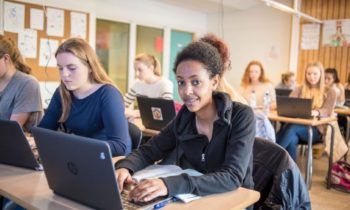 Lwam grew up in Eritrea — a small country in the Horn of Africa, which has one of the most brutal dictators in the world, Isaias Afwerki. When she was a child, Lwam's father was forced to join the military, and they didn't see him again for years. "It was hard for my mother to provide after he left," says Lwam. "She was just a housewife."
Lwam's mother packed up her family and left the country illegally. First they traveled to Sudan at night in the back of trucks. Then Lwam's mother forged ahead alone, leaving Lwam and one of her sisters alone in Khartoum, the capital of Sudan. It was three months before they heard from her again, and another year and nine months before they were reunited in Norway.
Lwam says they have never discussed how her mother reached Europe because "I don't think she wants to remember." Many Eritrean refugees use smugglers to cross the deserts of Sudan and Libya and then finally the Mediterranean Sea.
Lwam has been in Norway for a little over a year. When she got off the plane in Oslo, she was reunited with both of her parents again for the first time in many years. She now takes classes at the public high school in Lillehammer. She speaks advanced English (she started learning back in Eritrea), and she is also learning Norwegian.
Amino Abdulkader, 19, from Somalia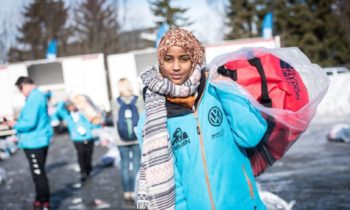 Amino has been in Lillehammer for three years, and she says she wants to be a lawyer someday because it's important for her to help other people. Her father first made the trek to Norway and then sent for his family. Most family members send the strongest member ahead first. When they have children under the age of 18, they can then apply to bring them over. Before they leave their home country, these children do a DNA test to prove they are related.
Hajia Mahamoud, 44, from Eritrea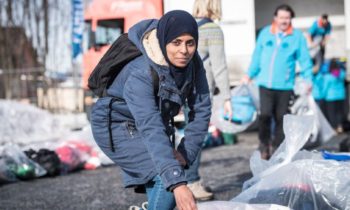 Hajia has been in Norway for six years and has six children, who ski and play soccer. While she was born in Eritrea, she spent most of her life living in Sudan before coming to Norway. Eritrea has been referred to as the "North Korea of Africa," and many of its citizens flee because of its brutal military conscription. There is virtually no freedom of speech or press. Hajia, who speaks Arabic, English and Norwegian, now works with other refugees as a translator.
Fartun Mohamed, 26, from Somalia
Fartun made the journey to Norway alone. It was her mother who arranged for her to leave the country and wired money to smugglers along the way. Fartun passed from Turkey to Greece by boat before heading north to Norway. Fartun has been in Lillehammer for four years and doesn't know when she will see her mother again.
(espn)