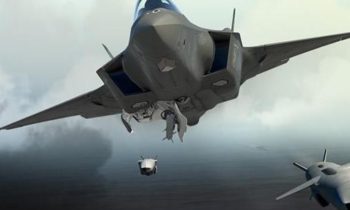 The JSM, developed with Raytheon, is being modified for Australia's Department of Defense.
The Australian Department of Defense has contracted Kongsberg of Norway to integrate an RF-seeker sensor into Joint Strike Missiles for F-35s.
The JSM, a joint product of Kongsberg and Raytheon, are to be carried in the internal weapons bay of F-35 Lightning II fighters. It can also be carried by other aircraft.
The JSM is a long-range anti-ship and land attack weapon.
The RF-seeker sensor from BAE Systems Australia allows the missile to locate its target using the target's electronic signature for guidance.
"We are very pleased that Australia joins the development of JSM by funding the integration of the RF seeker and that we together can increase the JSM capabilities", Eirik Lie, President of Kongsberg Defense Systems, said in a press release.
This $17.2 million contract comes under a 2015 cooperative agreement between by Norway and Australia.
(UPI)