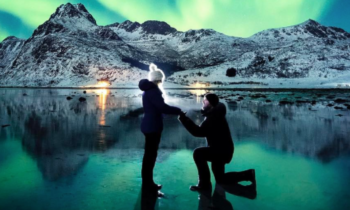 An Australian man managed to secure a "great timing" to propose to his significant other: under the majestic and eye-catching Northern Lights.
In a second attempt to place the sparkler on his girlfriend Karlie Russell's ring finger, 34-year-old Dale Sharp finally succeeded in front of the Aurora Borealis in Lofoten, Norway.
His first attempt was during their vacation to Iceland last year. Sharp, 34, had tucked the engagement inside a bottle of hand cream. However, when they found out that their luggage was overweight before their connecting flight from the Faroe Islands, Russell, 29, disposed of the bottle containing the ring. Sharp found out that the ring was thrown away weeks after their trip.
"I didn't know until a week, weeks after when we were in Iceland and I was looking everywhere for the ring," Sharp explained to Daily Mail Australia. "I asked her where the moisturizer was and she told me she threw it out in the airport."
That memorable day marked the 30th time Sharp and Russell, both landscape photographers, witnessed the Northern Lights together. "We both love chasing the Northern Lights and photographing them together. So, it seemed pretty fitting," he added. "I hadn't heard or seen anyone do it (propose at the Northern Lights) before, and I wanted to do something different from everybody else."
He initially wanted to pop the question during the seventh anniversary of their first date, but Sharp wanted to seize the picturesque view of the Northern Lights during their two-month working trip to the Arctic. "It was the most amazing display of color in the Aurora that we've ever seen," he said. "I wanted to take [the] full opportunity and make it happen at its absolute best. The moment was right, it felt good, so why not." After seconds of astonishment and bliss, Russell agreed to marry him.
Sharp's engagement shot, which he pulled off by setting the camera on timer, is now adored by thousands of people on Facebook and Instagram.
"The most ironic thing is that we're both landscape photographers, but have zero photos hanging up on our walls of our images," Dale revealed to the news site. "But this is one image that we want to keep for ourselves, and hang up on the wall."
(lifestyle)