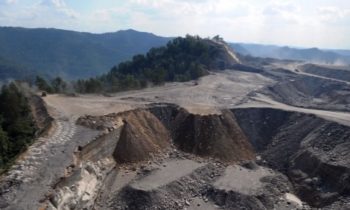 In response to the Norwegian Government Pension Fund's new "Responsible Investment" Report, NGOs warn that the divestment of many coal companies is still overdue. In 2015, the Norwegian Parliament directed the Pension Fund's manager, Norges Bank, to divest companies that "base 30% or more of their activities on coal" by the end of 2016.
In August 2015, Norges Bank had estimated that the coal divestment action would cover around 120 companies with an investment value of approximately NOK 55 billion. "But the job is only half done," comments Christoffer Klyve from Framtiden i våre hender (The Future in our Hands), Norway's largest environmental organization.
According to analysis undertaken by the German NGO urgewald, Framtiden i våre hender and Greenpeace Norway, the Norwegian Government Pension Fund Global (GPFG) still has investments of over NOK 26 billion in 32 companies that own coal mines or coal-fired power plants. And that is not all: The GPFG also has investments of over NOK 2 billion in 15 companies that transport coal or build coal power stations. Among these is, for example, Harbin Electric, the world's number one manufacturer of new coal plants.
"We were especially shocked to see that the GPFG is still invested in RWE, a company that produces almost 60% of its power in coal-fired power stations and is Europe's biggest CO2 emitter. RWE is also part of a joint venture that operates mountaintop removal mines in the United States, a practice that people in Norway abhor," says Heffa Schuecking, director of urgewald. "Clearly, this company should have been among the first to go."
"This is not good enough. NBIM needs to explain why they have not come further in their divestment from coal, more than 1,5 years after the Norwegian Parliament made the decision to divest from coal" says Truls Gulowsen from Greenpeace Norway. "It is distressing to see that we are invested in companies like India's Power Finance Corporation or China's Shanghai Electric Group which are among the top developers of new coal plants worldwide. Applying the new climate criteria put forward by the Norwegian Parliament should mean dropping such companies."
According to the NGOs' analysis, the GPFG is invested in companies that are planning to build over 51,000 MW of new coal-fired capacity. "This is equal to Germany's entire fleet of coal-fired power stations. The return on such investments is not wealth for future generations, it is a 4°C world," says Schuecking.
(N.Sethu)