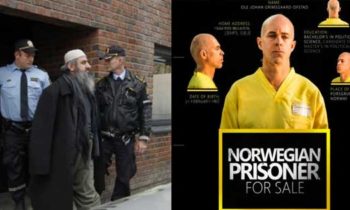 On social media, IS-fighters and sympathizers have called for an exchange of the Norwegian hostage Ole Johan Grimsgaard-Ofstad, for currently imprisoned radical Islamist Mullah Krekar. After the Islamic State (IS) in their last magazine announced that they keep the Norwegian Ole Johan Grimsgaard-Ofstad (48) hostage, supporters and members of IS have tweeted actively on the issue.Under the Arab tag "sale of the Norwegian and the China man", IS-affiliated fighters and supporters share their views on the matter. The vast majority support the "sales".
Over 2000 twitter message with this tag have been posted in recent days.
Among the most re-tweeted messages on the topic, is a requirement for a release of Mullah Krekar in exchange for Grimsgaard-Ofstad.
"I suggest IS exchanges the Norwegian prisoner for Mullah Krekar detained by them (Norway)," writes Abu Sayyaf.
According to Aftenposten, Abu Sayyaf is an IS-fighter residing in areas in Syria which are controlled by the terrorist group.
The message is accompanied by a picture from 2012, where Krekar is arrested outside his home.
Several other IS-fighters have re-tweeted the message. "Mullah Krekar, a lion among lions from the mountains, held captive by the dogs from Norway. Ask Allah to put an end to your captivity, lion, "writes an IS sympathizer with Kurdish background.
Mullah Krekar is the founder of the Islamist terrorist group Ansar al-Islam, who are fighting for a free Kurdistan, with an Islamic rule. Much of the current Ansar al-Islam pledged allegiance to IS in August 2014.
Norway has been trying to get rid of the Mullah for years, but can't extradite him due to the promise of a death sentence in Iraq.
Among the Norwegians who are working on the matter, the tweets of the IS members have attracted attention. It is primarily because it is considered a completely unrealistic scenario.
– Such an exchange is unthinkable, says a source close to the matter.
Norwegian authorities consider themselves bound by human rights in the issue of extradition of Krekar. They believe that Krekar risk execution or be subjected to torture if he extradited to Iraq or Kurdistan.
Norwegian authorities will consider it as unacceptable to extradite Krekar to IS as to Kurdistan or Iraq, the source told Aftenposten.
Mullah Krekar's lawyer, Brynjar Meling, says his client has no desire to be extradited to IS.
– It is to Kurdistan he wants to go. Otherwise it is so that human trafficking is and remains prohibited under Norwegian law. So I have a relaxed view on this information, says Meling.
Norwegian authorities are still working feverishly to free Grimsgaard-Ofstad. Yesterday, Foreign Minister Børge Brende said that the image IS has published of the Norwegian, is taken under a month ago.
That is the government's conclusion after doing technical studies of the picture.
– We work on the basis that Grimsgaard-Ofstad still is alive, said Brende yesterday.