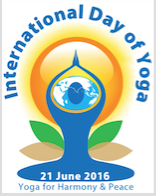 "This year's observance of the International Day of Yoga highlights the important role healthy living plays in the realization of the Sustainable Development Goals, adopted last year by all 193 United Nations Member States." Ban Ki-moon , United Nations Secretary-General
Embassy of India Oslo is celebrating International Day of Yoga 2016 on 24 June 2016 at Norwegian School of Sports Sciences (NIH), Sognsveien 220, Oslo. The IDY aims to foster peace and harmony in the consciousness of people.
UN has declared June 21 as the International Day of Yoga(IDY) since 2015.
Last year Embassy of India celebrated inaugural IDY 2015 in Telenor Arena, Fornebu in which about 1500 participants took part.
All are welcome to participate in this year's Yoga Day programme for which the admission is free.
Participants are requested to bring their own Yoga mats.
Programme – 24 June 2016
The programme is as follows:
1500 hrs: Programme commences
1500 hrs – Doors open at the Indoor stadium, NIH, Sognsveien 220, Oslo
1600-1800 hrs – Yoga session
1800-1900 hrs – Product promotion by various Yoga schools from Oslo, Juice and light refreshments sale
The event is free for public to see/participate.
Limited number of yoga mats will be available on-site for use but we would encourage public to bring their own mats.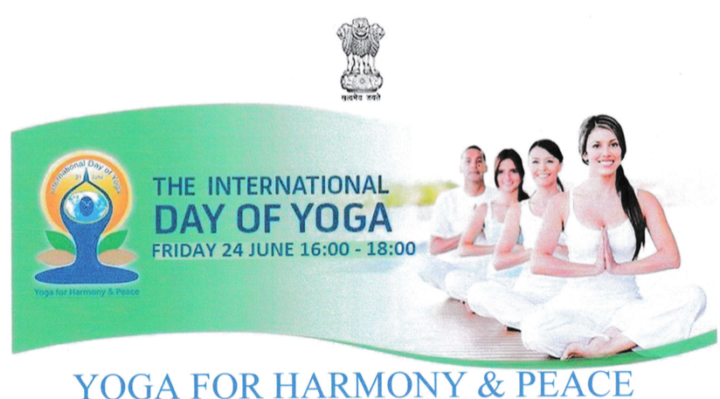 We are pleased to announce that following up on India's highly successful programme to celebrate the 'International Day of Yoga' worldwide in June 2015 which was also celebrated in Oslo, Norway with 1500 participants, we are happy to host a similar yoga festival this year in true spirit of international cooperation.
The Embassy of India has the pleasure of inviting all our friends in Norway to a Yoga programme on24 June 2016. This is an event for all ages – beginners and advanced.
Yoga is India's gift to the world and this is a perfect exercise for health, well-being, and making a lifestyle choice. This programme will give us an opportunity to practice yoga and learn how to focus and create harmony and peace in our lives.
Practical information
Norwegian School of Sport Sciences (Norges Idrettshøgskole, NIH), Sognsveien 220
Free admission
The doors open at 15:00. The programme starts at 16:00 and the event ends at 18:00.
Please wear convenient clothing. Bring your own yoga mat or a large towel and a bottle of water. Juices will be provided. Indian vegetarian snacks would also be available.
Take metro no. 5 to Sognsvann. Parking facilities are also available.
Welcome to an inspiring and joyful Yoga Day.
Looking forward to meeting you at the largest Yoga Festival in Norway!
With warm regards,
Air Chief Marshal (Retd) NAK Browne
Ambassador of India to Norway
International Day of Yoga in Norway or India in Norway
The United Nations proclaimed 21 June as the International Day of Yoga.
Yoga is an ancient physical, mental and spiritual practice that originated in India. The word 'yoga' derives from Sanskrit and means to join or to unite, symbolizing the union of body and consciousness.
Today it is practiced in various forms around the world and continues to grow in popularity.
Recognizing its universal appeal, on 11 December 2014, the United Nations proclaimed 21 June as International Yoga Day by resolution 69/131.
International Yoga Day aims to raise awareness worldwide of the many benefits of practicing yoga.
Background Information
The draft resolution establishing the International Day of Yoga was proposed by India and endorsed by a record 175 member states. The proposal was first introduced by Prime Minister Narendra Modi in his address during the opening of the 69th session of the General Assembly, in which he said: "Yoga is an invaluable gift from our ancient tradition. Yoga embodies unity of mind and body, thought and action … a holistic approach [that] is valuable to our health and our well-being. Yoga is not just about exercise; it is a way to discover the sense of oneness with yourself, the world and the nature."
The resolution notes "the importance of individuals and populations making healthier choices and following lifestyle patterns that foster good health." In this regard, the World Health Organization has also urged its member states to help their citizens reduce physical inactivity, which is among the top ten leading causes of death worldwide, and a key risk factor for non-communicable diseases, such as cardiovascular diseases, cancer and diabetes.
But yoga is more than a physical activity. In his statement before the vote on the resolution, the President of the 69th session of the General Assembly, Sam Kutesa emphasized this point: "For centuries, people from all walks of life have practiced yoga, recognizing its unique embodiment of unity between mind and body. Yoga brings thought and action together in harmony."
In a statement UN Secretary-General Ban Ki-moon also pointed out the global benefits of Yoga: "Yoga is a sport that can contribute to development and peace. Yoga can even help people in emergency situations to find relief from stress."
In the words of one of its most famous practitioners, the late B. K. S. Iyengar, "Yoga cultivates the ways of maintaining a balanced attitude in day-to-day life and endows skill in the performance of one's actions."