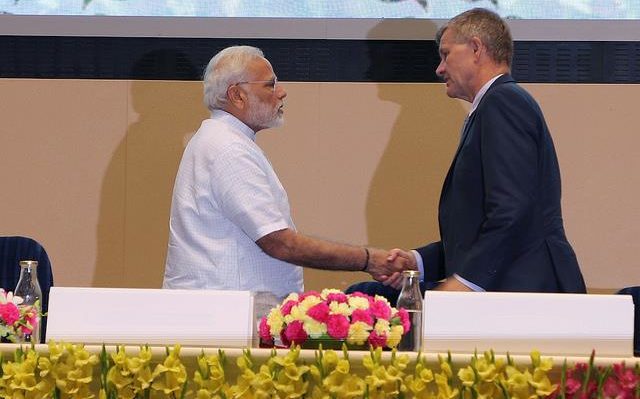 India went big in their commitment to Beat Plastic Pollution today, with an announcement to eliminate all single-use plastic in the country by 2022. This unprecedented ambitious move against disposable plastic will drastically stem the flow of plastics from 1.3 billion people and business in the fasted growing economy in the world.
Prime Minister Narendra Modi hailed World Environment Day as the start of a global movement to defeat single-use plastics, highlighting India's rapid economic development can be done in a way that is sustainable and green.
"It is the duty of each one of us, to ensure that the quest for material prosperity does not compromise our environment," Modi said. "The choices that we make today, will define our collective future. The choices may not be easy. But through awareness, technology, and a genuine global partnership, I am sure we can make the right choices. Let us all join together to beat plastic pollution and make this planet a better place to live."
Solidifying India's leadership of global sustainability, Dr. Harsh Vardhan, Minister of Environment, Forest and Climate Change pledged to "achieve the India of our dreams," announcing that single-use plastics would be banned in all Indian states by 2022.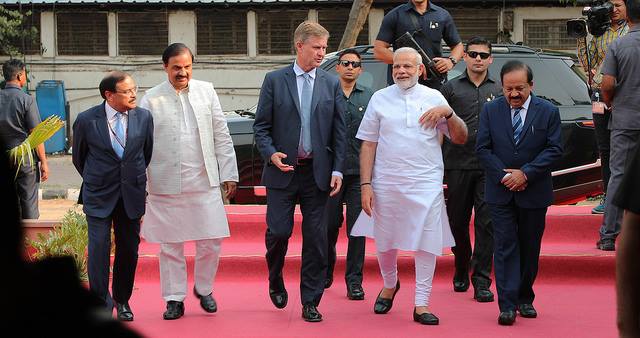 "This has been the biggest, most resonant World Environment Day ever, thanks to the leadership of our global host India," Erik Solheim, Head of UN Environment, said. "India has made a phenomenal commitment and displayed clear, decisive and global environmental leadership. This will inspire the world and ignite real change."
The announcement was a powerful finale after weeks of activities around the country, seeing millions of Indians – policymakers, celebrities, business Moghuls and small entrepreneurs, innovators, environmentalist, and activists – come together to collectively take action on plastic pollution.
Among the highlights from the national celebrations was Modi's commitment to join UN Environment's Clean Seas campaign, which seeks to turn the tide on marine litter. India has 7,500 km of coastline – the 7th longest in Asia. As part of this commitment, the government will establish a national and regional marine litter action campaign as well as a program to measure the total marine plastic footprint in India's coastal waters.
Other notable steps towards a pollution-free India included a partnership between UN Environment and the Indian Board of Control to 'green cricket' across the country, and a pledge to make 100 national monuments litter-free.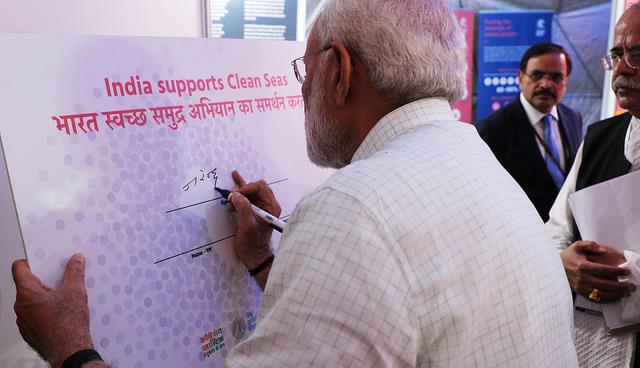 The country further showcased innovative solutions to environmental challenges. The western state of Maharashtra introduced an urban e-mobility program to scale back emissions. Meanwhile, the state of Andhra Pradesh in India's southeast launched a scale-out plan to transition 6 million farms from conventional synthetic chemical agriculture to Zero-Budget Natural Farming.
As part of the official ceremony in Delhi, the Indian government, in collaboration with UN Environment also launched a joint World Environment Day Report: "Single-use Plastics: A roadmap for Sustainability". Presenting case studies from more than 60 countries, the report analyzes the complex relationships in our plastics economy and offers an approach to rethink how the world produces, uses and manages single-use plastics.
After months of preparations and thousands of events, the culmination of commitments and action have made this World Environment Day the most successful to date, setting the bar for governments, public and private sector, and individuals around the world to step up and Beat Plastic Pollution, once and for all.