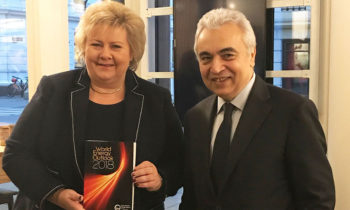 Dr Fatih Birol, the Executive Director of the International Energy Agency, visited Norway and Denmark to present the latest findings from the World Energy Outlook, highlight the IEA's emphasis on carbon capture, utilization and storage, and discuss the state of the global energy system.
In Norway, Dr Birol met with the Norwegian Prime Minister, Erna Solberg. The discussed the importance of oil and gas production from stable and reliable suppliers such as Norway to ensure supply security. Dr Birol also emphasized the need to develop CCUS as a tool to reduce carbon missions. The Prime Minister stressed the importance of innovation and praised the IEA's leadership on CCUS.
Dr Birol also met with Norway's energy minister, Kjell-Børge Freiberg, to discuss the IEA's policy of opening the doors to emerging countries. With the recent addition of South Africa into the IEA family, the Minister praised the IEA for completing in record time its association agenda, with the IEA family now accounting for about 75% of global energy demand.
They discussed the upcoming International CCUS Summit meeting in Edinburgh, which the minister will attend. The Summit, which is co-hosted by the IEA and the Government of the United Kingdom, will bring together energy ministers and high-level government officials, chief executives and other representatives from the energy and financial industries to provide a new global impetus for carbon capture utilization and storage, a critical technology in achieving climate agreements while meeting growing energy needs.
Both the Prime Minster and the Energy Minister reiterated Norway's commitment to support the Paris Agreement, but said that to meet the agreed targets will require a faster pace of transformation than we have ever seen. To achieve a rapid transformation, international cooperation is crucial and all parts of the world need to work together.
Dr Birol also presented the findings from the World Energy Outlook 2018 at Equinor's annual autumn conference, one of the country's most important energy conferences with more than 800 industry leaders, politicians and members of the wider energy community.
During the WEO presentation in Copenhagen, Denmark's energy minister, Lars Christian Lilleholt, stressed the importance of energy efficiency and system integration of renewables, and pointed to the IEA's recent estimation that carbon emissions would increase in 2018.
Dr Birol also attended a panel discussion with Danish State Secretary Morten Bæk, Secretary General for Eurelectric Kristian Ruby, and the CEO for the Danish Energy Association, Lars Aagaard, where they talked about electrification, decarbonisation, and the role of IEA in navigating the energy transitions in energy economies.