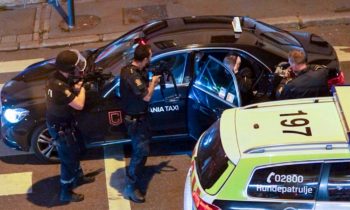 A GUNMAN armed with a pistol opened fire outside a Norwegian nightclub in Oslo injuring four people including two bouncers, police reported.
André Kråkenes, police spokesman, said the victims were taken to hospital from the music venue Blue in Oslo but were not critically injured.
Oslo police added that emergency crews are still on site. Officers have already arrested the shooter and said they have "no more suspects."
The suspect reportedly tried to escape in a taxi before armed police officers detained him.
The reason for the shooting appears to be that the man was asked to leave the club, police said.
American hip–hop artist Kool G Rap was performing at the Blue nightclub on Saturday night. It was his first ever appearance in Norway.
Police were reportedly nearby, responding to a separate incident, when the shots were fired.
The suspect is known to police but they would not comment on whether he has been previously convicted or whether he is part of a criminal gang.
A gun was recovered at the scene, according to a Norwegian paper.
Witnesses claim one of the victims was shot in the neck and another was shot in the leg.
The shooting happened just before 3:30am BST.
The club where the shooting took place is said to be located in an old industrial building in the Brenneriveien area of the city.
(N.Sethurupan)