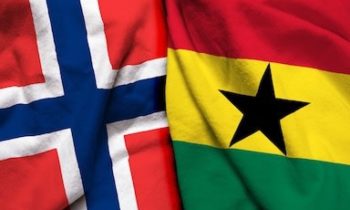 Mr Oyvind Udland Johansen, the Deputy Counsellor at the Royal Norwegian Embassy, has said Ghana is a key partner for Norway in both political and commercial endeavours.
He said the partnership had been cemented with President Nana Akufo-Addo and the Norwegian Prime Minister, Mr Erna Solberg, Co-Chairing the United Nations Advocacy-group for the Sustainable Development Goals (SDGs).
He said the bilateral relations between the two countries had grown substantially since the opening of the Norwegian Embassy in Ghana in 2011.
Mr Johansen said this at the launch of the Aker Energy/Ghana National Petroleum Corporation (GNPC) Scholarship Programme in Takoradi.
A total of 150 promising students from low income backgrounds in the six coastal districts of the Western Region were awarded scholarships under the Aker Energy/GNPC Scholarship Programme for 2018.
The programme, which is being supported by Lukoil and Fueltrade, began in 2012 and covers school and examination fees, boarding costs, books  and academic materials.
It has transformed the lives of 794 students who enrolled in the senior high school, technical, vocational and health training institutions.
Mr Johansen said sharing knowledge in sectors that were a priority for Ghana had been the central pillar in the cooperation, adding that sectors like oil and gas, fisheries and aquaculture were the major targets.
He said the exploration of Ghanaian petroleum reserves had opened doors for Norwegian companies and that there were more than 50 Norwegian companies operating in Ghana, stressing that many of the companies worked together with Ghanaian companies in the oil and Gas sector.
The Deputy Counsellor said the private sector was a key partner for creating decent jobs and liveable wages that could deliver increased tax revenue to the state and called for the establishment of a conducive environment for responsible business conduct.
On education, Mr Johansen said it was the key goal that would allow many other sustainable development goals to be achieved.
"When people are able to get quality education they can break from the cycle of poverty. Education, therefore, helps to reduce inequalities and to reach gender equality, it also empowers people everywhere to live more healthy and sustainable lives".
He said education was also crucial for fostering tolerance between people and contributed to peaceful societies.
Mr Kwadjo Asare Kyei, a representative of the Petroleum Commission, commended Aker Energy and GNPC for taking their social responsibility towards communities in the Western Region seriously.
The Western Regional Minister, Dr Kwaku Afriyie, on his part, commended the two institutions for their efforts, noting that education was an important platform for everyone to display his or her God-given talent.
He tasked the beneficiaries to reciprocate the gesture by taking their studies seriously to enable them to come out as responsible citizens.
Baahema Kodu, the Queen Mother of Essikado Traditional Area, encouraged the beneficiaries to assist in the further development of their respective communities and the Western Region in general upon completing their education.
Source: GNA