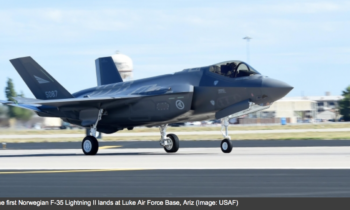 Norway takes delivery of first three F-35A Lighting II aircraft from the US firm Lockheed Martin in a ceremony at Ørland Air Base, on Friday.
"We mark the start of a new era for the Norwegian Armed Forces," said Norway's Minister of Defence Frank Bakke-Jensen. "The new combat aircraft will be a key factor in deterring any attack on Norway, as well as ensuring that we meet our obligations to the NATO alliance. The F-35 remains crucial to the continued modernization of our Armed Forces and our ability to preserve Norwegian and allied security and interests."
Norway's three F-35A aircraft departed from Lockheed Martin's Fort Worth, Texas facility on Nov. 3, 2017, and landed on Norwegian soil that same day at Ørland Air Base. Norway has taken delivery of 10 F-35s to date, three of which are now at Ørland Air Base and seven are stationed at Luke Air Force Base, Arizona, where Norwegian pilots are conducting training. Norway has plans to purchase up to 52 F-35 aircraft.
"Receiving the first F-35s at Ørland is a major milestone for Norway: it's visible proof of Norway's commitment to the F-35 Program and Norway continues to be one of the strongest partners of the F-35 enterprise," said Vice Admiral Mat Winter, F-35 Program Executive Officer. "We are really proud to be part of the opportunity to celebrate this exciting time with Norway."
The F-35 provides a transformational solution for Norway's sovereign defense and will serve as a critical element of the Royal Norwegian Air Force for decades to come.
A 5th Generation fighter jet, the F-35 combines advanced stealth with fighter speed and agility, fully fused sensor information, network-enabled operations and advanced sustainment.
(Nadarajah Sethurupan)