Work-related crime can only be combated by means of cooperation – both national and international, says Minister of Labour Anniken Hauglie (Conservative Party). Last week European authorities and social partners met in Oslo.
Wednesday 27 March saw the formal launch of the international cooperation on joint supervision and exchange of supervisory data and experience in the fight against work-related crime financed by the EEA and Norway Grants. With the EEA and Norway Grants, Norway together with Iceland and Liechtenstein provide funding to reduce disparities in Europe and strengthen bilateral relations.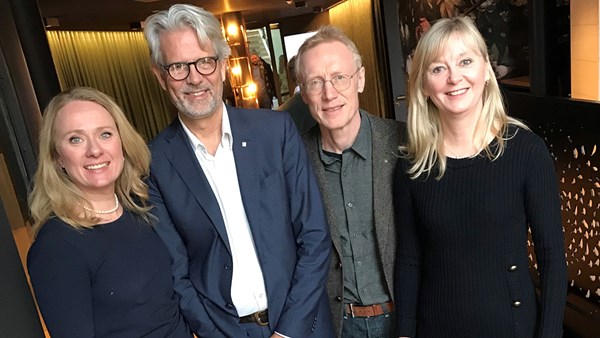 Closer European supervisory cooperation
– Criminals who operate in working life pay no respect to national borders. International agreements and cooperation will improve our ability to combat work-related crime, among other ways, by enabling us to exchange information on specific inspection cases. At the same time, it will help to ensure satisfactory working conditions for foreign workers in Norway, said Trude Vollheim, Director General of the Norwegian Labour Inspection Authority, before the meeting.
In 2016, the Norwegian Labour Inspection Authority, in cooperation with EU and EEA ministers, invited a number of Central European countries to closer cooperation on supervision. The background was the joint challenge involved in ensuring secure working conditions, combating work-related crime and strengthening fair and free competition in the European corporate and labour market. The initiative has resulted in binding agreements with the authorities of Bulgaria, Poland, Romania, Estonia, Latvia and Lithuania.
Following up the Government's strategy
The cooperation is one of the measures of the Government's strategy for combating work-related crime.
– The EEA cooperation gives Norway and Norwegian business and industry access to valuable European manpower. At the same time, this potential is cynically exploited by players who systematically violate working environment legislation in their quest for profit, said Ms. Hauglie.
– Joint supervision will benefit workers and fair competition while sustaining national incomes.
The Norwegian model
The topic for this week's meeting was the Norwegian model. This is based on close cooperation between the social partners. The model has proved effective in ensuring workers general rights and more secure working environment and in avoiding unfair competition in business and industry. On Wednesday and Thursday, meetings were held between the authorities and social partners of Lithuania, Latvia, Estonia, Bulgaria, Romania and the Nordic countries in order to exchange experience and take cooperation a step further.
– Tripartite cooperation builds trust. We view it as the best solution for raising difficult issues and attaining agreement on fair and good compromises. These are experiences we would like to share with our cooperation partners in the fight against work-related crime, said Ms. Hauglie.
(regjeringen)