Norwegian wool producer Devold is implementing an unprecedented R&D project together with Factobotics, robotics company from Lithuania. An innovative Overhead robotic system will increase efficiency of sewing processes. The new solution is planned to be scaled and offered to other manufacturing companies.
Norvegian company Devold has been in operation for more than 160 years. It is known as a pioneer in the development of innovative merino wool, designed for outdoor wearing and professionals working in demanding conditions. In 2018 the company started partnership with Factobotics – Lithuanian robotics company that has been chosen to provide a solution for automating processes in Devold's main production facilities, located in Lithuania. Devold has been in need for increasing efficiency of indoor material and unfinished product logistics and has been searching for partners both in Norway and Lithuania. The company has chosen the most ambitious route – instead of adapting any of already existing alternatives, it opted for creating a new solution together with Factobotics.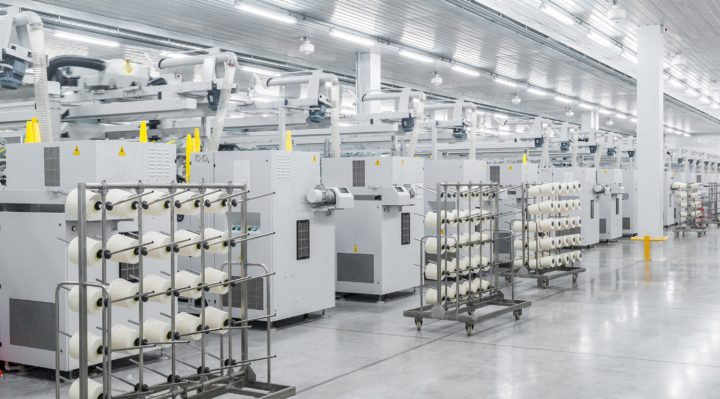 Revolutionising internal transportation of materials
The project involves creation of algorithms for transportation of materials and semi-finished products between sewing workstations and their storage in a smart way. Also, building a robot that physically transports the necessary materials above the workstations. The completed system will collect and manage real-time data, related with material and products logistics, allowing optimization of sewing process, reducing production time and downtime.
The project is currently transitioning from research stage to development.
"This is a big and very complex project. At the moment we are preparing to implement the initial installation processes in the factory. We hope that the system will reach production level this year," says Justinas Katkus, head of Factobotics.
After the launch in Devold's factory, the smart logistics solution will be further scaled and offered to other companies, mainly focusing on clothing manufacturing sector, but with potential to be adapted for other production industries.
Norway and Lithuania – partners for green innovation
Devold and Factobotics is only one example of successful cooperation between Norway and Lithuania. Bilateral cooperation has been taking place for almost thirty years, more than 250 Norwegian businesses, including names like "Gjensidige", "Kitron", "YARA", have activities in this Baltic state. Lithuanian entrepreneurs, operating in IT, laser and manufacturing services, open businesses in Norway. Lithuania is the biggest Norway's export partner in the Baltics.
The countries share the vision of modern and sustainable economy, thus they are strengthening cooperation in innovation and development of green industry solutions. Norway is particularly focused on biotechnology, nanotechnology and green technology. As a rising life sciences hub, Lithuania is an attractive partner for R&D activities in these areas as well as energy, defence, finance technology sectors.
Breakthrough in green innovation in Lithuania is being accelerated by "Norway Grant's" program "Business Development, Innovation and SMEs". The program encourages sustainable growth of Lithuanian business and economy by investing in green innovations and ICT progress. The program not only helps businesses create green products, technologies and IT solutions, but also provides platform for productive cooperation among Lithuanian and Norwegian businesses.
During the initial period of "Norway Grants", which took place in 2009-2014, thirteen Lithuanian companies, together with partners in Norway, created and implemented successful innovations, including green packaging solutions, sustainable waste management technologies, green energy solutions. The new "Norway Grants" 2014-2021 period has opened doors for new innovations and further opportunities for bilateral cooperation.