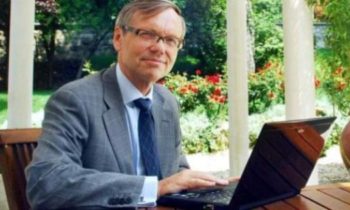 Climate change is the biggest challenge for humanity and all nations will have to adopt policies to face and address it, Norway's ambassador to India, Nils Ragnar Kamsvag said here today.
"Not many have understood the seriousness of climate change. As a nation, Norway is a witness to extreme weathers but during last few years the extreme weathers have become more extreme. Areas that were once felt as a safe zone are no more a safe zone.
"The drain systems which were designed to deal with limited rainfall are choking up because of increase in rainfall and the areas which were considered safe are getting submerged due to heavy rainfall," Kamsvag said.
He was delivering inaugural address at the two-day international conference on "Climate Change, Water, Agriculture and Food Security" at ICRISAT here.
The conference is organised by a consortium of institutes, including the Norwegian Institute of Bioeconomy Research (NIBIO), M.S. Swaminathan Research Foundation, and Water and Land Management Training and Research Institute (WALAMTARI).
The objective of the conference is to better understand and synthesise the biophysical, technological, institutional, social, economic and political drivers for future agricultural development and food security.
The conference has been planned across 15 themes and 70 papers.
On the occasion, Kamsvag called upon various nations to come forward and join hands and address the challenges properly.
He said Norway was contributing to the extent of USD 25 billion to countries which are limiting deforestation and trying to have programmes for forestation.
Speaking to media on the sidelines of the conference, Kamsvag said that he was hopeful of a "positive outcome" from the Conference of Parties (COP 22) and the forthcoming 12th session of COP 22 serving as the meeting of parties to Kyoto Protocol (CMP 12) which will be held in Marrakech in Morocco next week.
"A lot depends on US elections," he said, adding that he was hopeful of a positive outcome.
In his address, Central Water Commission (CWC) chairman G.S.Jha said climate change was an issue of concern.
"At Central Water Commission, we have taken up measurements and study of glacier lakes and are trying to analyse them. As per the finding, some lakes are shrinking while some are increasing in size," he said.
Jha said there was a rainfall of increased intensity but
it cannot be established whether the change was due to change in weather cycle or other factors.
CWC has taken up some irrigation projects in different regions and found that irrigation projects are running at low efficiency due to the lack of maintenance as the prime reason, he said.
"There are instances where canal (system) has lost its design capacity, there are erosions and it does not run full as a result of which the tail-end areas suffer. There is no association to manage water and ensure equitable distribution of water. Huge investments made on dams are not giving commensurate benefits," Jha said.
He further said the "attitude" of farmers was to look up for everything to government, but there is a need to generate local investment to have a sense of belonging among farmers.
On the occasion, posters were released on ultrasonic sensors developed by WALAMTARI besides a book on climate change and agricultural development, published by Earth Scan London. The book is authored by Dr Udaya Sekhar Nagothu of the Norwegian Institute of Bioeconomy Research.
(business-standard)