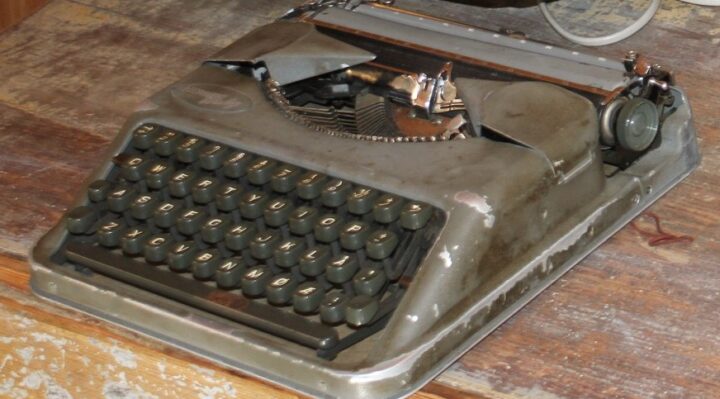 The first Norwegian missionaries to China went there in 1886. Missionaries wrote stories from their daily life and made China known as a great big country with a long history and rich on culture. Letters were sent by railway through Russia. By Airmail, the wight was cheapest up to 5 gram. Using typewriter gave space for more words than handwriting. This typewriter for traveling was used for writing reports.
As 25 years old Nordahl Grieg spent 1927 as a newspaper correspondent in China. He travelled up to Hankou (Wuhan) and had interview with the 9 years elder Soong Ching-ling, the widow of Sun Yat-Sen who was the founder of the Republic of China. As both sympathized with the Communists, they become good friends. She let him stay in her big house. Nordahl Grieg also met her brother-in-law Chiang Kai-shek. The stories are all in his book "Kinesiske Dage" (Chinese Days) from 1927. It was published by Gyldendahl Norsk Forlag, owned by his brother Harald Grieg.
Harald Munthe-Kaas was a freelancer for Norwegian Broadcassting (NRK) in Asia from 1967. The years 1970–1971 he was NRK's first correspondent in Hong Kong. Then Gunnar Høidahl was based in Hong Kong from 1975 till the office was closed down in 1979 and replaced with offices in Beijing and Singapore. Harald Munthe-Kaas was the first NRK reporter in Beijing from 1979 till 1982, taken over by Gunnar Høidahl from 1982 till 1985. Then Fritz Nilsen was based in Beijing the years 1985 – 1989 and covered the Tian An Men massacre. Other reporters based in Beijing have been Siv Nordrum (1989- 1993), Anne Grosvold (1993- 1996), Philip Lote (2003-2007), Anders Magnus (2010-2014), Petter Svaar (2014 – 2017), Kjersti Strømmen 2017- 2022. (Petter Svaar is NRK`s youngest foreign correspondent: https://www.youtube.com/watch?v=f_m_z5gS7ls)
The biggest Norwegian newspaper Aftenposten has an office in Beijing. Some of their reporters are Gunnar Filseth, Terje Svabø, Kristoffer Rønneberg and Jørgen Lohne. Harald Stene Dehlin worked for Aftenposten from 1963 till he retired in 1980. He is the only reporter for Aftenposten who often made articles about Taiwan.
Swedish reporters from SVT, SR and Dagens Nyheter are still in Beijing.
Torbjørn Færøvik is a former reporter in Asia and is now author of several books about China`s history. He is not allowed to enter China any more. In that way he is free to write uncensored about China for various media.
The changing media landscape and distribution as well as sharing of news is affecting political and social development, Philip Lote said.
NRK used to hire local cameraman in China. It became a problem when visiting Taiwan, as the Chinese cameraman then didn`t get exit visa. NRK now hires a foreign photographer.
It is getting more and more difficult to be reporter in China, as Facebook, Twitter and big foreign media are blocked on internet. It can be dangerous for the interviewees or their family members as they may not say anything against the communist party.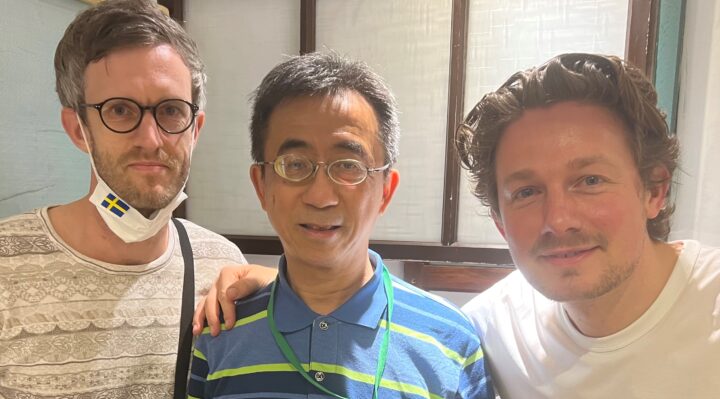 The last years more media have been leaving Beijing and moved their office to Taiwan where they have access to all web pages without censorship. This year a total of 137 reporters from 75 international media outlets in 20 countries are stationed in Taiwan, an increase of over one-third since 2020, according to the Ministry of Foreign Affair (MOFA).
– This positive development reflects global recognition of Taiwan's vibrant democracy and ongoing government efforts to cultivate a free and open press environment, the MOFA said. – It also reflects declining media freedom in Hong Kong since implementation of the national security law and the consequent decision of outlets to relocate staff, the ministry added.
– Equally important, the MOFA said, – is Taiwan's rise to 38th in the 2022 World Press Freedom Index released earlier this month by France-based Reporters Without Borders. The country is also rated free and sits second in Asia as per the latest Freedom in the World annual report issued by U.S.-based nongovernmental organization Freedom House, the ministry added. – The government will continue providing all necessary assistance to foster a convenient, diverse and free environment for members of the press, the MOFA said, adding that outlets around the globe are welcome to expand operations in Taiwan.
For the fifth time, Norway is at the top of the ranking of the world's most press-free countries in the press freedom index of Reporters Without Borders. The index was presented on Press Freedom Day and shows very big challenges internationally, while our neighboring countries Denmark, Sweden and Finland follow in the places just after Norway. (https://www.mediebedriftene.no/artikler/2022/pressefriheten-ma-vernes-som-best-nar-den-trues-som-mest/?fbclid=IwAR2ker-_Oxjxn7b_X89p-7B2BwV9-7pS8p3AlWrmxi1b22bBY_aoH9wI5H4)
Aftenposten had many subscribers among the 800 Norwegians who lived in Shanghai before the pandemic. Every time the newspaper published something negative about the management in Beijing or wrote something positive about Taiwan, its website was closed in China for two weeks. Now that many Norwegians have left China, Aftenposten is freer to write uncensored. Todays editorial tells Norway`s Minsiter of Foreign Affairs to use the freedom to criticize China.
Reporters Without Borders measures press freedom based on media independence, the quality of government framework conditions and the safety of journalists.
The press freedom index is based on seven different criteria:
– the diversity of the press in the country,
– media independence,
– how open society is in general,
– whether the legislation acts oppressive or restrictive,
– transparency,
– the infrastructure in production,
– violence and abuse against journalists.
In a tweet on its official Twitter account, the MOFA said – "#Taiwan is a defender of journalists ranked among the freest countries regionally & worldwide. We're honored to host more & more members of the global media while promoting the cornerstones of good governance: access to information, accountability, transparency & rule of law.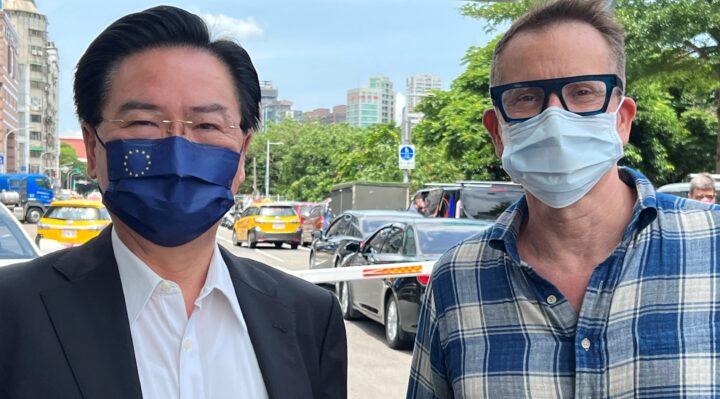 China and Taiwan use the same Mandarin language. Reporters living in Taiwan get information from more sources than when living in China. The Norwegian Broadcasting NRK is owned by the Norwegian state. China will harm Norway if NRK moves its office to Taiwan. China can block Aftenposten`s website if the newspaper puts up an office in Taiwan.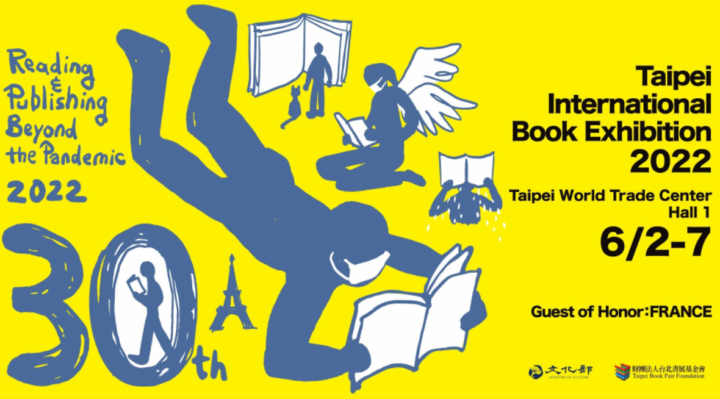 The 30th edition of the Taipei International Book Fair (TIBE) will take place June 2. – 7, 2022. It's a great opportunity to meet with Asian Publishers and get to know recommended books from Taiwan. Most interesting may be the books banned in China. TIBE 2022 will also be online. This year France is the guest of honor. In 2011 Norwegian Publishers' Association was invited to be the guest of honor, but has never attended in Taiwan. More than 100 Norwegian books are translated to Chinese. It started with stories by Henrik Ibsen in 1906. Author guests of honer were Jostein Gaarder at TIBE 2011 and Jo Nesbø at TIBE 2012, both from Norway.
Geir Yeh Fotland, formosa1951@gmail.com. All photos credit Geir Yeh Fotland
https://www.taipeitimes.com/News/editorials/archives/2022/04/12/2003776442?fbclid=IwAR0IzMnLIilpyDLa8LKOIUJSwQCYKl9iIBbxCV6cMQhbQbjBfXPvY4AvaNI
https://www.nrk.no/kultur/tre-nye-nrk-korrespondenter-1.11551699