The Embassy of India in Norway has been celebrating the International Day of Yoga every year since 2015 with support of Yoga institutes/studios based in Norway. It may be recalled that United Nations designated June 21 as the International Day of Yoga at the initiative of Hon'ble Prime Minister of India Shri Narendra Modi, when 177 countries including Norway co-sponsored the UN Resolution in 2014.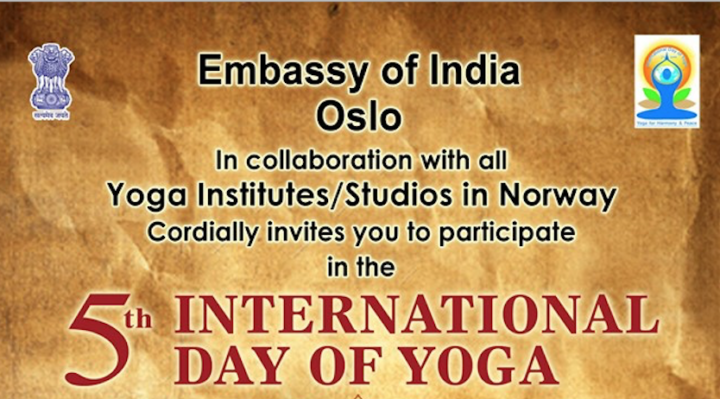 The Embassy of India will be hosting the 5th International Day of Yoga in Oslo on Sunday, 23rd June, 2019 from 10.00 hrs to 12.00 hrsat Norges Idrettshøgskole (Norwegian School of Sport Sciences), Sognsveien 220, 0863 Oslo. The event will be conducted by four experienced Yoga teachers namely Ms. Jenny Vagane, Mr. Massimo Barberi, Ms Kamaldeep Banga and Ms Maria Fürst. Over 350 participants are expected to attend.
This year, three Norwegian Yoga celebrities, Ms. Henriette Lien, Ms. Linn Stokke and Ms. Maria Fürst would also participate and speak on the occasion.
The Indian Embassy cordially invites people from all walks of life to be part of the extraordinary journey that we have embarked upon in the quest for global peace, harmony, health and happiness. This is an event for all ages. Entry will be freefor all participants. Participants are requested to bring their own yoga mats.