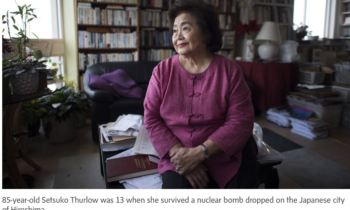 An 85-year-old Canadian woman who survived the Hiroshima atomic bombing and will jointly accept this year's Nobel Peace Prize is calling on Prime Minister Justin Trudeau to show his leadership and humanity by signing onto a UN accord to ban nuclear weapons.
Setsuko Thurlow, who was 13 when the United States dropped the bomb on Aug. 6, 1945, said she is "more than disappointed" that Canada refused to sign on to the Treaty on the Prohibition of Nuclear Weapons, an accord that was adopted last July at the United Nations.
"I question the quality of leadership of the Prime Minister," Ms. Thurlow said in an interview Thursday with The Globe and Mail.
Ms. Thurlow implored Mr. Trudeau to sign the accord and help the world work toward eliminating nuclear weapons, asking how the father of three would react if his own children were killed.
 "Can he imagine how he would feel to watch his own children just incinerated, melted, carbonized? That's what happened in front of me, and I watched the city full of those people who simply melted," she said.
"My four-year-old nephew had that fate."
Ms. Thurlow will travel to Oslo in December to jointly accept the Nobel Peace Prize on behalf of this year's laureate, the International Campaign to Abolish Nuclear Weapons.
She said it is a "frightening time" for the world, as U.S. President Donald Trump and North Korean leader Kim Jong-un exchange threats of nuclear warfare.
The Nuclear Weapon Ban Treaty itself has no binding effect on countries that have weapons and none of them would be likely to sign on.
But disarmament advocates hope that a treaty banning the last remaining legal weapon of mass destruction will provide the ethical momentum to banish them to history.
While 122 UN member countries voted in favour of the UN treaty last summer, states with nuclear weapons such as the United States, together with Canada and its NATO partners – with the exception of the Netherlands – boycotted the talks.
Ms. Thurlow, a former social worker who has lived in Toronto since 1955, said she hopes the Prime Minister will reconsider his position. She said Mr. Trudeau is prioritizing his economic and trading relationship with Mr. Trump and other NATO countries rather than humanitarian concerns.
If Mr. Trudeau doesn't sign on, it means "a lack of courage, for economic purpose or some other excuses, to ignore and neglect the well-being and security of Canadian people he is responsible to," she said.
"The Prime Minister seems to willfully ignore the fact that the majority of Canadians want a world without nuclear weapons," she said in a statement sent to media on Thursday. "As a living witness to Hiroshima, I beseech Justin Trudeau to change course."
A spokesman for Foreign Affairs Minister Chrystia Freeland said Canada is committed to nuclear non-proliferation and disarmament. "Our government strongly supports concrete and meaningful efforts that will help achieve these goals," spokesman Adam Austen said in an e-mail.
Mr. Austen cited a variety of international initiatives supported by the federal government, noting that Canada is currently chairing a high-level UN group on the development of a Fissile Material Cut-Off Treaty, to help halt the production of a material used in nuclear weapons.
"Crucially, these negotiations involve both non-nuclear and nuclear states. Canada remains a global leader on concrete efforts toward nuclear disarmament and non-proliferation," he said. "Progress on nuclear disarmament and non-proliferation must involve states with nuclear weapons. That is what we are achieving."
NDP foreign affairs critic Hélène Laverdière said the actions of the Liberal government on this issue have been "entirely disappointing."
"The Liberals cannot continue to pretend they believe in nuclear disarmament so long as they stay outside of this treaty," she said in a statement on Thursday.
Last June, Mr. Trudeau told the Commons the treaty was a well-meaning but ineffective process.
"There can be all sorts of people talking about nuclear disarmament, but if they do not actually have nuclear arms, it is sort of useless to have them around, talking," the Prime Minister said.
Ms. Thurlow, who was visiting the Parliament buildings at the time, called Mr. Trudeau's comments "callous."
"I can't believe the leader of the nation can use such language," she said.
In an interview with The Globe last August, she contrasted his position with that of his father, Pierre Trudeau, who was more outspoken about disarmament.
"He didn't make himself very popular – with the Americans especially," she said of the senior Trudeau. "But he was gutsy enough to be able to say that at the UN. But this time, his son is hiding behind Trump. He hasn't said boo."
Ms. Thurlow said she is "very proud and humbled" that she will be accepting the Nobel Peace Prize, along with Beatrice Fihn, the executive director of the International Campaign to Abolish Nuclear Weapons; she said she does so on behalf of all nuclear disarmament advocates around the world.
Even 72 years later, she said the memories of the bombing in Hiroshima will always stick with her and her fellow survivors.
"It's the only natural thing for us to dedicate our lives, to report to the world, to warn the world, to alert the world, what the nuclear weapons do to human beings. That's what's important for us," she said.
"I want the world to learn what could happen. Better not happen again."
With a report from Reuters
(theglobeandmail)