The head of the American Drugs Enforcement Agency (DEA), Uttam Dhillon, was in Antwerp on Wednesday during a trip to Belgium to support the anti-drugs battle being led by the European Union and the United States.
On Wednesday, he specifically went to the port of Antwerp, known to be a centre for the importation of drugs into Europe.
Nearly every year, the port of Antwerp records a record number of drugs seizures. In 2018, more than 50 tonnes of cocaine were intercepted. And according to Uttam Dhillon, "a similar amount confiscated in South America must have been channelled through there."
Dhillon, who has also been to Colombia on the trip, states that there exists "a strong link between gangs of traffickers there and enormous hauls in Europe."
According to him, these criminal gangs are often the same ones organising the exportation of the drug into Europe and the United States.
"These gangs work across frontiers, they don't care about borders. That's why we must cooperate in order to fight them," he argued at the beginning of his visit to the port of Antwerp.
This visit comes at a time when Antwerp is grappling with an escalation in violence linked to drugs, including a series of grenade explosions that have recently rocked the port city.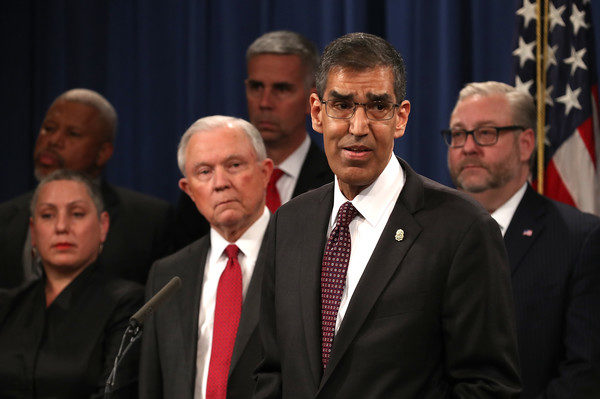 Below is a full rush transcript of the press conference by Uttam Dhillon, Acting Administrator, Drug Enforcement Administration.
Administrator Dhillon: It's a privilege to be here in Belgium and I look forward to meeting with our law enforcement counterparts here to continue our efforts against transnational criminal organizations that threaten all of our countries and the rule of law.
I recently visited Colombia and I had the opportunity to see firsthand the connection between drug traffickers in South America and the dramatic rise in cocaine seizures here in Europe — cocaine that originates from Colombia and other South American countries.
These South American drug trafficking organizations are the same ones that sent cocaine to the United States. So this presents many challenges to DEA and our law enforcement counterparts here, but thankfully we enjoy tremendous partnerships and strong relationships so we're able to do great things here to combat these transnational criminal threats.
Media: Could you talk a little bit more about why you are here now? Is there a particular issue you are here to address on your trip?
Administrator Dhillon: I'm here to learn firsthand what the issues are that are being faced here in Europe generally and the specific regions I'll be visiting. I find that visiting an area is far more beneficial in terms of learning the issues than being briefed hundreds or thousands of miles away. So that's the first reason I'm here.
The second reason I'm here is to continue to reinforce our very, very strong relationships that the Drug Enforcement Administration has with our Dutch, our Belgian and our European law enforcement partners and the EU. Those relationships go back decades, and it's important for us to continue those relationships and to grow those relationships.
My visit to Colombia a few weeks ago and my visit here is a stark reminder of the types of criminal organizations that we're facing. These are transnational criminal organizations, organizations that know no borders, know no boundaries. So in order for us to effectively attack those organizations we do have to work together to address the issues that are raised by these transnational criminal organizations.
Media: What is your opinion on the drug traffic through the Port of Antwerp? And how do your services cooperate with their Belgian counterparts?
Administrator Dhillon: One of the things that I think is well known is that significant amounts of cocaine are being shipped to the Port of Antwerp. The numbers are actually quite significant. Last year working with all of our partners here, the Belgian authorities seized over 50 tons of cocaine at the port in Antwerp, almost that same amount was interdicted before it got to Antwerp. It was interdicted in South America. So we know that almost 100 tons of cocaine either made it here or were destined here that were not distributed.
What that tells us is that Antwerp is a significant destination for cocaine trafficking by South American drug trafficking organizations, and that we need to focus working with our law enforcement partners here, we need to focus on ways to interdict and prevent both the drugs from even reaching Antwerp, but when they do, help develop the ability to locate and seize those drugs before the enter Europe.
Media: They are Russian arms dealers who were busted by a DEA sting operation in 2016 and unfortunately Hungary refused their extradition to the U.S. last year and they have been extradited to Russia where one of them is already out of jail. First I'd just like to ask the DEA's opinion on how this event unfolded, what are your feelings about this, and how can you make sure that cooperation between Hungarian and U.S. authorities can continue after this?
Administrator Dhillon: Well, I think first of all, I want to say that the Hungarian police and DEA cooperated fully on this joint operation, and the fact that these individuals were not extradited to the United States is frustrating and disappointing for DEA and U.S. federal law enforcement.
These individuals are serious top tier international weapons and drug traffickers. They would have, it's well documented, I think it's well documented both in Hungary and by DEA. It is unfortunate that they will not be facing justice in the United States. I think it's unfortunate both for Hungary and for the United States, and frankly, for all of Europe to have individuals of this character that we know are involved in these kinds of criminal activities with connections to terrorist organizations that are free, or purportedly one is free at this time.
So suffice it to say we're very disappointed. In the future, we will engage as aggressively as possible with any country that we worked with to obtain indictments of people of this nature.
I will say this, DEA never gives up. These individuals, the fact that they have not been extradited doesn't mean that they won't be extradited. We will continue our efforts to bring them to justice in the United States, and for anybody who questions our resolve, all you have to do is ask El Chapo. We worked very hard to get him. He was recently convicted in New York and he will face a very significant sentence. My hope is that these individuals will also face the sentences and the justice that they deserve.
Media: Is the DEA number one priority tackling the issue of fentanyl? How concerned are you about the issue of fentanyl coming from China and the impact that it is having in the United States?
Administrator Dhillon: We're very concerned. It is our top priority. The opioid crisis that we face in the United States is unlike any we've faced before.
Last year over 70,000 Americans died of drug overdoses with almost 50,000 of those being opioid overdoses and a very significant number of those being related to fentanyl. So fentanyl is a high priority for us.
As you know, as the question implies, the majority of fentanyl is coming from China, either going to Mexico where it's distributed through the Southwest border by Mexican drug trafficking organizations or through the mail directly to the United States.
Most recently China has agreed to schedule, that is to make fentanyl and fentanyl analogs in China controlled substances beginning May 1st. We're very pleased with that. We think that will have a significant impact on the ability of fentanyl traffickers in China to move fentanyl to Mexico and to the United States. So we're very pleased with China's decision to do that. We have a good working relationship with law enforcement in China and we'll continue to develop that relationship to attack the source of fentanyl in China.
Media: How do you cooperate with Russia in the current climate.
Administrator Dhillon: DEA has a Moscow office, and what I would say with respect to working with the law enforcement is we have excellent working relationships with law enforcement throughout the world. These are relationships that are developed over extended periods of time. So for example, in Belgium, we've been here for almost 40 years, almost the entire existence of DEA, and our relationship with law enforcement throughout the world is excellent by and large.
We have an office in Russia, so we work with Russian law enforcement. And oftentimes I will just say that the larger political issues are things that from a law enforcement perspective we try to stay focused on the criminal elements that we're all attacking jointly.
Media: How many drugs, according to DEA, are smuggled nowadays through the famous Balkan route?
Administrator Dhillon: We see a significant amount of heroin coming into Europe through the Balkan route. One of the ways that DEA is attacking that problem is we, in 2016, we opened a new office in Zagreb, Croatia, specifically to help us fight the drug trafficking along the Balkan route.
DEA is also a part of the Balkan Cartel Initiative, which we work with several countries in Europe, we work with Europol and we also work with our colleagues in South America.
In the last year, our colleagues in Belgium have seized more than six tons of heroin at the Port of Antwerp in containers shipped from Iran. That's also another flow of drugs we see through that area.
Media: I'm trying to figure out how Belgium authorities told you about, they are very worried, they seem to be worried about what's happening in the Port of Antwerp, and what did you precisely notice there? And to what extent the DEA can help Belgium to tackle the amount of drugs coming to Antwerp?
Administrator Dhillon: We know that there are significant cocaine seizures there. Last year it was about 50 tons of cocaine that were seized at the port with almost the same amount seized before reaching the port. So we know Antwerp is a significant destination for cocaine traffickers.
What are we doing in terms of assisting or working with Belgium authorities? Is that the other part of your question? I'll assume that was the other part of your question.
We've been working in Belgium for decades, and so these are transnational criminal organizations that are engaged in drug trafficking and other criminal activity. Their activity is global by definition. They don't worry about borders.
The organizations that are moving cocaine to Europe through Antwerp and other ports in Europe are the same organizations that are moving cocaine to the United States. So we work together with Belgium, with all of our European partners to attack drug trafficking globally, because our view is that we not only will assist in helping European nations attack their drug trafficking organizations, but we will also help the United States because we will damage the very same drug traffickers. So that is our rationale for working with Belgium and for focusing so much on this issue.
Administrator Dhillon: I want to thank you for taking the time to talk with me today. It's a privilege to be here in Belgium and I look forward to meeting with the Belgian Federal Police later today in Antwerp. I'll also be traveling to meet with the National Police of the Netherlands and our partners at Europol.
This trip has further illustrated for me the connection between drug traffickers in South America and the dramatic rise in cocaine seizures in Europe, and DEA is committed to continuing our outstanding working relationship with our partners here in Europe and I look forward to hearing about the many future successes against these global drug trafficking organizations coming from Europe.