Oslo, 9 May 2019 – Yerkin Akhinzhanov, Ambassador of Kazakhstan, presented his Letters of Credence to the King of Norway, Harald V.
After the ceremony in the Royal Palace, during the audience, the King warmly recalled the official visit of the First President of Kazakhstan, Nursultan Nazarbayev, to Oslo in April 2001. The monarch emphasized the need to strengthen multifaceted ties between Kazakhstan and Norway, highlighting the importance of promoting sports and researching common history that link the countries together.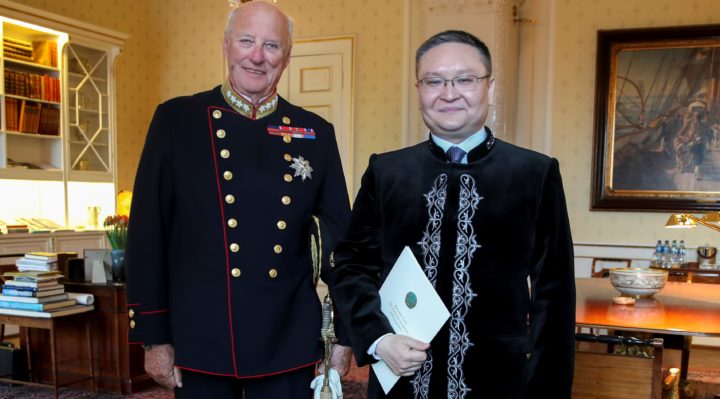 The Norwegians well remember the time when Norway's skaters used to set world records at the Medeo, the world's highest mountain rink in Almaty. The King welcomed the Embassy's intentions to introduce Kazakhstan, its nature, culture, and economic and investment potential to the Norwegians.
Harald V learned with interest about the political changes in Kazakhstan and the presidential elections scheduled for June 9. Mr.Akhinzhanov emphasized that the incumbent President Kassym-Jomart Tokayev, in his address to the people has guaranteed fair and transparent elections.
"We always remember that Norway was among the first to recognize Kazakhstan's Independence. Your country has been a model for many reforms in Kazakhstan, including the establishment of the National Fund for revenues from oil. Today we want to introduce advanced practices in building an efficient welfare state with a sustainable economy and society. We are interested in developing renewable energy, smart cities, aquaculture and many more initiative," the Ambassador said.
He also noted that as a large Eurasian country, Kazakhstan is actively contributing to develop the New Silk Road, which will make possible the delivery of containers by rail from East China to Northern Europe in a duration of just two weeks, as compared to 45-60 days by sea.
According to the Ambassador, Kazakhstan and Norway should strengthen the shared aspirations in building a harmonious, secure and prosperous world. Kazakhstan is one of the countries most affected by nuclear testing and this coming 29 August will mark the 70th Anniversary of the first nuclear explosion near Semipalatinsk. Based on the devastating experience and the most tragic suffering of the people, the First President Nursultan Nazarbayev made a historic decision to dismantle the entire nuclear potential, the fourth largest in the world, that remained on our territory after the collapse of the USSR.
Following the solemn audience, the Norwegian Ministry of Foreign Affairs hosted a Vin d´honneur reception at the Government Guest House in honour of the newly accredited ambassadors of Kazakhstan, Albania, Lesotho and Qatar.