A 25-year-old Sikh man, identified as Ravinder Singh, has allegedly been murdered in Peshawar, Pakistan. However, the alleged killer has not been identified yet.
The victim's body was found in the Chamkani Police Station area in Peshawar.
Ravinder Singh was the brother of a journalist, Harmeet Singh, Pakistan's first Sikh journalist in electronic media. Originally from Shangla in Khyber-Pakhtunkhwa province, Ravinder Singh lived in Malaysia. He had travelled to Pakistan for his wedding and was in Peshawar for the shopping.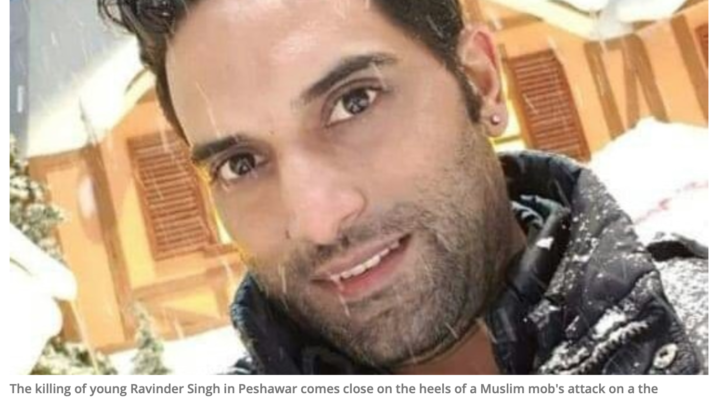 Condemning the "targeted killing" of minority Sikh community member in Peshawar, India called upon the Pakistan government on Sunday to apprehend and punish the accused.
"India calls upon the Government of Pakistan to stop prevaricating and take immediate action to apprehend and give exemplary punishment to the perpetrators of these heinous acts," the MEA said.
The alleged killing of the Sikh community member comes close on the heels of a Muslim mob's attack on a revered Sikh shrine in Nankana Sahib, the birthplace of Guru Nanak, which took place on Friday.
India had on Friday strongly condemned vandalism at the revered Gurdwara Nankana Sahib in Pakistan and called upon the neighbouring country to take immediate steps to ensure the safety and security of the Sikh community there.
Breaking his silence on the incident, Imran Khan said on Sunday that there is a "major difference between the condemnable Nankana incident and the ongoing attacks across India on Muslims and other minorities".
"The former is against my vision and will find zero tolerance and protection from the government including police and judiciary (sic)," he tweeted.
BJP leaders pointed to the attack on Gurdwara Nankana Sahib to gather support for the new law on citizenship that the government says gives hope to migrants who fled religious persecution in Pakistan and two other nations.
"Persecution of minorities in Pakistan is for real. Do those opposed to CAA [the Citizenship Amendment Act] still need more proof?" tweeted Union Minister Hardeep Singh Puri.
The Citizenship Amendment Act fast-tracks naturalisation for Pakistani, Afghan and Sikh illegal immigrants from six non-Muslim minority communities (including Sikhs and Hindus), who entered India on or before December 31, 2014.
Dozens have been killed in protests against the new law — most of them in Uttar Pradesh.
(indiatoday)