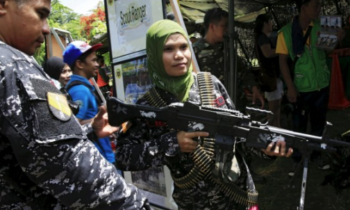 An Abu Sayyaf leader tagged as behind the kidnappings of two Canadians and a Norwegian in Samal Island was among those killed by Malaysian authorities in a sea battle off Sabah's Semporna district.
Philippine army Army Major Filemon Tan, military spokesman, identified the slain leader as Abraham Hamid, who led about a dozen gunmen in the kidnappings of Canadians Robert Hall and John Ridsdel and her Filipina girlfriend Maritess Flor, and Norwegian Kjartan Sekkingstad on Samal Island in Davao del Norte province in September last year.
Hamid was killed on December 8 along with two others, whose identities were not immediately known, after they attacked several trawlers off Semporna. Two other Abu Sayyaf gunmen captured by Malaysian forces have been identified as Samsung Aljan and Awal Hajal, according to Tan.
Malaysian authorities rescued an abducted skipper of a trawler, but said two Abu Sayyaf members managed to escape bringing with them a fishing boat captain they seized in Semporna.
"Per validation made by this Command, the shootout resulted in the killing of Abraham Hamid, leader of the Samal kidnapping incident and two of his cohorts. Two Abu Sayyaf members Samsung Aljan and Awal Hajal were also apprehended," Tan said.
Both Hall and Ridsdel were beheaded by the bandits after the Canadian government rejected ransom demands by the Abu Sayyaf group. Flor and Sekkingstad have been freed separately after private negotiators paid huge ransoms to the notorious group tied to the Islamic State.
"The death of Hamid is a big blow to the Abu Sayyaf group. It will degrade their capability for spotting and kidnapping victims in the future," Tan said.
Malaysian media said the fighting injured a policeman. At least seven gunmen on speedboat entered Sabah from Tawi-Tawi and seized the two skippers.
Unknown to the gunmen, a boat operated by General Operations Force Tiger Platoon was in the area and protecting the fishing boats, and engaged the raiders in a sea battle.
(manilatimes)