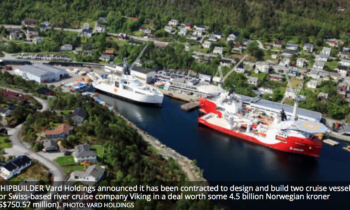 SHIPBUILDER Vard Holdings announced it has been contracted to design and build two cruise vessels for Swiss-based river cruise company Viking in a deal worth some 4.5 billion Norwegian kroner (S$750.57 million).
There is an option for two more vessels in the letter of intent signed by both companies, Vard's media statement said, and both parties hope to finalise the contract by mid-2018.
The vessels are developed by Vard Design in Norway and will be built at Vard's Romania shipyard.
Both will be delivered in Q2 2021 and Q2 2022 respectively to Viking, which presently operates a fleet of 60 vessels and describes itself as "the world's leading river cruise line".
Vard's chief executive and executive director Roy Reite said the company looks forward to continuing the "excellent cooperation" with the Viking team.
(businesstimes.com)