Excellencies, Ladies and Gentlemen,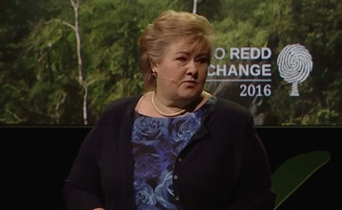 It is with great pleasure that I welcome you to Oslo REDD Exchange.
And it is with great hope that I see the recent developments in the climate change and sustainable development agenda.
The Paris agreement ended up being more ambitious than anyone had dared imagine.
I am especially happy that it recognises the role of forests in stabilising our climate. As do the Sustainable Development Goals.
For the first time, we have reached international agreement that there can be no sustainable future for this planet unless we protect and restore tropical forests.
Tropical forests support an impressive range of biodiversity. More than half of the world's plant and animal species live in rainforests. Biodiversity loss is one of the greatest challenges facing humanity today.
When I talk about the Sustainable Development Goals, I often make the point that simply establishing goals will not in itself end extreme poverty. Action must follow promises. The same goes for deforestation.
In April last year, I made a visit to the rainforests of Indonesia that I will never forget.
On the island of Sumatra, I met a people called Orang Rimba.
Literally, this means people of the forest.
The Orang Rimba have hunted, gathered and grown what they need in the forest for centuries.
Now, the forests they depend on are diminishing.
Increasingly, they find themselves living on palm oil plantations, which provide hardly any of the ecosystem services that used to sustain them.
This story is not unique to Indonesia.
On the contrary, the same story is unfolding in many tropical forest countries every day.
We are here today to change this story.
If it is to have a happy conclusion, we need to end deforestation. And this will only be possible if governments are involved.
Indonesia is emerging as a case in point.
President Jokowi has made three groundbreaking decisions:
• not to issue any new mining or palm oil permits,
• to protect all remaining peatlands and restore those already damaged, and
• to review existing permits for forest- and peatland areas.
There is no time to lose.
A few days ago, the United Nations Environment Programme (UNEP) and INTERPOL revealed that environmental crimes now make up the world's fourth largest crime sector, growing at two to three times the pace of the global economy.
These are crimes against future generations as well as the present. They increase the fragility of an already fragile planet, and threaten to undermine states that are on the way to peace and stability.
Developing countries should not have to bear the burden of forest protection alone. Over the last eight years, Norway – together with partners such as Germany, the United Kingdom and the United States – has worked with forest countries, multilateral organisations, civil society and private companies to support them.
One of our long-standing partners, Guyana, has shown how a nationally owned system for monitoring and reporting on forest cover can be developed to a high international standard, almost from scratch.
Countries with major development challenges can be the most ambitious. Ethiopia plans to keep emissions at 2010 levels, while becoming a middle-income country by 2025. An ambitious green economy plan will show the way. Norway will continue to partner Ethiopia in realising this vision.
Brazil has demonstrated that it is possible to balance the demands for economic growth with mitigating climate change.
Over a period of ten years, Brazil reduced deforestation in the Amazon by more than 70 per cent. At the same time the economy grew, agricultural production in the same region increased, and poverty was reduced.
Three factors were key to this success:
• law enforcement,
• the extension of indigenous territories and conservation areas in the Amazon, and
• the recently renewed Amazon soy moratorium, which prevents companies from selling soybeans that were produced on deforested land.
State governors, forward-looking companies, indigenous peoples and activists from all parts of Brazil played a part.
I'm therefore proud that last year Norway fulfilled its promise to pay one billion USD into the Amazon Fund based on these results, and that we have agreed to extend our partnership with Brazil up to 2020.
We first entered into this partnership in 2008. Norway recognises that reducing deforestation requires long-term investments at scale.
That is why my Government decided to extend Norway's International Climate and Forest Initiative until 2030.
Brazil is not alone.
Colombia is using its transition to peace as a stepping-stone to green growth. Two weeks ago, Norway, Germany and the UK transferred 6 million US dollars in response to Colombia's achievements in reducing deforestation in 2013 and 2014. Colombia has also launched its Amazon Vision programme to improve livelihoods, indigenous peoples' rights and spatial planning in the Amazon.
In this way, Colombia is showing great leadership in protecting its incredible biodiversity. Did you know that Colombia is home to more bird species than any other country in the world?
I am also confident that the Peruvian Government will continue on its path of including indigenous peoples' land tenure rights and production–protection strategies in the Amazon in its strategy.
Liberia is seeking to keep emissions low while promoting inclusive and sustainable growth by giving rural communities a key role in forest management.
The Democratic Republic of Congo has committed itself to stabilising its forest cover by 2030.
Local governments are also taking promising jurisdictional approaches to reducing deforestation in all the main tropical forest countries.
Indigenous peoples are showing that, with secure tenure, they are the best guardians of the forest. There can simply be no REDD+ without the participation of indigenous peoples and local communities.
The private sector is coming on board. The soy moratorium and the commitments to deforestation-free palm oil are good examples.
Civil society is pushing world leaders to do more, as well as promoting transparency and accountability, and providing expertise.
The successes we achieved in New York and Paris would not have been possible without the leadership shown by all these groups.
Today, Norway is endorsing the Amsterdam declaration on removing deforestation from the supply chains of agricultural commodities to Europe, with a particular focus on palm oil.
In this way, we are supporting the efforts of the private sector to ensure fully sustainable palm oil supply chains by 2020.
Later today, the Storting – the Norwegian parliament – will ratify the Paris agreement.
And tomorrow, Norway and the United States will sign a Joint Statement on Deeper Collaboration on Forests and Climate Change. I am very pleased to announce that US Secretary of State John Kerry will join Minister of Climate and Environment Vidar Helgesen at this event.
Our forest and climate partnerships are broadening and deepening. This reflects the fact that forests play a key role in mitigating climate change.
Tropical forests can provide one third of the climate change mitigation needed to stay on a two-degree pathway or below over the next decades.
By protecting our forests, we are thus making a crucial contribution to climate change mitigation and global sustainability, and – ultimately – to the future of humanity.