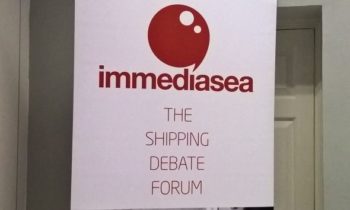 The Norwegian Export Credit Agency (GIEK) has said that the sharp downturn in the offshore industry means that a massive 50 per cent of its NKr102 billion (US$12.3 billion) loan guarantee portfolio has been placed under what it describes as "close scrutiny". At the end of 2015, NKr87.2 billion of its guarantees were in the oil and gas sector.
GIEK head of communications Allon Groth told the Immediasea forum in London that GIEK expects that the difficult market situation in the offshore sector will be long lasting, until at least 2020. "Any solutions for companies in trouble also need to be long-term and not short-term quick fixes."
He said that the situation is serious "but we are making provision to handle it". GIEK provides loan guarantees and credit alongside commercial banks for contracts for vessels and related equipment from Norwegian suppliers.
Mr Groth said that at the end of 2015 it had made loss provisions of NKr4.8 billion, but that this is likely to increase in 2016. He commented: "We are dealing with the situation but it is costing a lot of money."
He stressed that GIEK, which is backed by the Norwegian government, has extensive provision to withstand substantial losses, but the terms of its loan guarantees mean that if offshore companies default on loans, GIEK must cover those payments.
He told the forum that GIEK works closely with owners and banks to find solutions where companies or projects are in trouble. "If companies run into trouble GIEK and other guarantors will discuss the situation with owners, but we cannot save every company and every vessel."
Mr Groth said that the number of offshore companies will have to come down and overcapacity needs to be addressed. "The key is burden sharing where there is restructuring, with everyone contributing to solutions."
Despite these serious challenges Mr Groth stressed that GIEK is still willing to back offshore projects. "We are willing to provide finance for the right projects," he confirmed.
GIEK is also looking to diversify its portfolio to reduce the dominance of offshore business, including deepsea fish farming and renewable energy projects.
(osjonline)