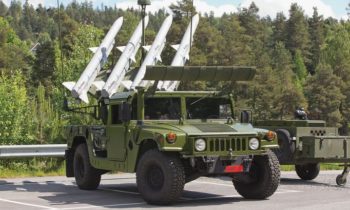 The Norwegian Army is to be equipped with two new ground-based air defence systems, the country's Ministry of Defence (MoD) announced on 6 February.
The move ends a policy that has been in place since the early 2000s, whereby ground-based air defence has been the responsibility of the Royal Norwegian Air Force (RNoAF).
Known as the Army Ground Based Air Defence project, the new system is expected to leverage the National Advanced Surface-to-Air Missile System (NASAMS) in service with the RNoAF. NASAMS is essentially a ground launching system for the Raytheon AIM-120 Advanced Medium-Range Air-to-Air Missile (AMRAAM). In addition, the programme will see the creation of a new short-range air defence (SHORAD) system for the Norwegian Army.
According to the MoD, the Forsvarsmateriell (Norwegian Defence Materiel Agency – NDMA) will now work with NASAMS manufacturer Kongsberg to define the final system solution for the army; and then place a production contract later this year. Deliveries of the new system to the army are expected to take place between 2018 and 2021.
In a statement, Kongsberg said, "Army Ground Based Air Defence is a highly mobile, short-range air defence system based on some existing elements in today's structure in combination with the acquisition of some new elements. The system will reuse NASAMS command and control and its unique network solutions."
The RNoAF currently operates the updated NASAMS II system in two configurations: a six-round truck mounted/towed pedestal launcher, and a lightweight four-round launcher fitted to a High-Mobility Multipurpose Wheeled Vehicle (HMMWV). When ground launched, the AMRAAM missile has a range of 20 km.
The army's new air defence system will be built around the RNoAF's high-mobility NASAMS launcher for the mid-tier, while the SHORAD system will be based on a tracked launcher. Speaking to Jane's on 14 February, a spokesperson for the MoD said that the SHORAD system would be armed with both guns and Diehl BGT IRIS-T short-range air-to-air missiles.
(Nicholas de Larrinaga, London – IHS Jane's Defence Weekly)