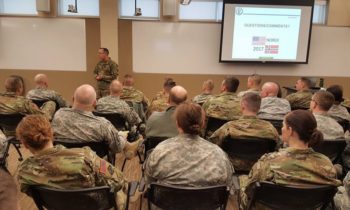 The Minnesota National Guard will host over 100 members of the Norwegian Home Guard as part of a reciprocal troop exchange at Camp Ripley Feb. 9 -23, 2017.
The origin of the exchange began with a handshake between two veterans of the Second World War – Norwegian Major General Herluf Nygaard and Chief of National Guard, Major General Francis S. Greenlief, agreeing that a troop exchange would strengthen the bond between their two allied countries. This program which began in 1974 was the initiation of the longest allied exchange, to date, in the Department of Defense.
2017 marks the 44th anniversary of this Partners for Peace exchange program which has had over 9,000 Soldiers, Airmen and Home Guard personnel participate. Through the middle of February the exchange, at Camp Ripley, will introduce the Norwegian Soldiers to cooperative training experiences with American military and inter-agency partners focusing on domestic operations with law enforcement and homeland security.
The Minnesota National Guard supporting the Federal Mission Overseas
It's another busy year for the 1st ABCT! We've got not just one, but two major international training exercises coming up.
Since 2010, the U.S. Army Europe command has led an annual cooperative training exercise known as Saber Strike. Spanning across the Baltic states of Lithuania, Latvia, and Estonia, thousands of troops from over a dozen countries participate each year. This year, Moorhead's own 2nd Combined Arms Battalion, 136th Infantry will be sent in support of the mission.
-Others will be headed to Camp Atterbury for Talisman Saber, a biennial cooperative training exercise between the U.S. Military and the Australian Defence Force.
-Both of these missions will help reinforce the joint interoperability of the U.S. Military and our ability to support multinational operations.
-Exercises like this require a lot, not only of the troops involved in the process, but also of their families, employers and communities.
On approximately 1 April 2017, Charlie Battery 1st of the 194th Field Artillery will activate and be stationed in the Alexandria, MN Training and Community Center comply with 2020 Force Structure Guidance.
1. The Minnesota National Guard is following guidance in accordance with the 2020 Army Force restructuring of Brigade Combat Teams.
2. Soldiers assigned to units that are affected by this guidance have been given opportunities to transfer to units that have the military occupational specialty in which they're qualified or to stay with their current unit and reclassify to the military occupational specialty of the new unit.
The Minnesota National Guard will accomplish the restructure of these units with minimal turbulence to operations and personnel.
Staff Sgt. Anthony Housey will be on the air (KXRA 1490am / 100.3fm) on Friday morning, February 10th on KXRA's Openline program at 9:05am.
(voice of alexandria)