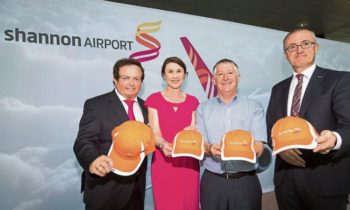 SHANNON Airport is well positioned to tap into any potential deal for a new carrier to fly to the United States, if the way is cleared by US authorites for Norwegian Air International to fly across the Atlantic.
Industry sources have indicated that Norwegian will likely use Ireland as a major hub for flights to North America from Europe, if it gets approval from the US Department of Transportation.
Norwegian's attempts to get the green light to operate low cost flights to the US have become an issue in the Presidential campaign, with Democratic hopeful Bernie Sanders recently voicing his opposition to the deal. Shannon has lodged a submission in support of the carrier's attempts to win a permit to operate services between Ireland and the US.
Most of the major carriers into the US were against the Norwegian bid, including American, US Airways and Delta, and industry experts believe the deal will "level the playing field" for low cost operators looking at the transatlantic market.
Preliminary approval for permits for Norwegian has been granted, which Shannon has said would mean "having a new carrier on its runway", as a result of discussions that are ongoing since 2014.
It is understood that a service between Boston and Shannon would be the first route if the deal gets the go ahead. Industry sources have suggested that there is a "big appetite" among Irish authorities for the deal to go ahead, with Ireland to become an "anchor point" for the States, offering a hub opportunity both for Norwegian and other carriers.
Shannon has formally stated its support for Norwegian's bid in its submission, which has also been backed by the Irish Aviation Authority in a separate submission to the US transport department. Mary Considine, acting CEO of Shannon Group, said that the launch of these services would be a "boost for tourism and business".
"We welcome the planned NAI services and the benefits to visitors and to businesses which they will bring," Ms Considine said in the submission.
"We have been in discussion with Norwegian since 2014 and we are happy to have been able to demonstrate the strong and growing demand for travel between Ireland and the US and to have convinced the airline to launch Shannon-US service subject to regulatory approval.
"We welcome NAI's plans to develop transatlantic service from Shannon to complement our existing and valued range of flights, and we are confident that NAI's initial and subsequent routes will grow the overall market and develop more transatlantic trade and tourism."
Meanwhile, Shannon this week announced details of a new programme to support airport users with autism and special needs and their families.
Launched by Marty Morrissey, the initiative includes a new instructional video and brochure – hosted on www.shannonairport.ie – for people with autism and special needs to help them to understand the process of getting through the airport.
(limerickleader)