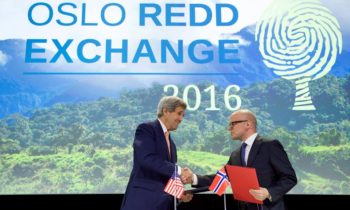 SECRETARY KERRY: Well, Minister Helgesen, (in Norwegian), thank you very much, nice to be here with you. I am really glad to be here in Oslo and delighted to see all of you. I don't know where you all come from, who you are – (laughter) – but it's wonderful that you're all here, delighted to be with you.
And I'm really happy to be back in Oslo, because as a kid, I spent a lot of time exploring the woods that surround your stunning fjords. I would sail all night on the fjord in the summer on a 21-foot skiff that I got to explore in, and learned how to cross-country ski in the woods behind the Holmenkollen. So I'm confident that those experiences in my teen age contributed hugely to my connection to the environment and caused me, a long time ago, as the minister mentioned – 1970 – to become involved in environmental affairs, and particularly in Earth Day, when 20 million Americans changed what we were doing.
The threat of climate change is, without question, one of the defining if not the defining challenge – I'd probably give violent extremism – have to say one of – the defining threat of a generation. And it is a challenge that everybody has to approach with urgency. This April was the hottest April in recorded history and the month before that was the hottest month in recorded history. And in fact, all of the months of the last year contributed to being – each and every one of them – the hottest months, and therefore, the hottest year in recorded history. And that hottest year in recorded history is the hottest year of the decade that is the hottest decade in recorded history. And the decade before that is the second hottest in recorded history, and the decade before that, the third hottest in recorded history.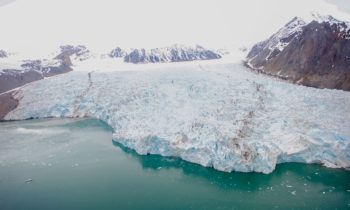 So one would hope that after a decade or two, one would begin to have an empiric, innate, inherent sense of understanding of what is happening. You don't need to be a scientist to draw rational conclusions. We're also seeing extreme drought and stronger and more frequent hurricanes and typhoons. We've seen more than 30 straight years of glacier ice loss. And the Greenland ice sheet continues to lose mass at an unprecedented rate. And we're seeing more wildfires such as the one that has already ravaged some 900 square miles in Canada and continues to burn, forcing the evacuation of almost 100,000 people.
If you continue to extrapolate on what is happening – the glacier melt and challenges of water in various parts of the world and the capacity to grow food – it doesn't take a big imagination to understand that the small numbers of climate refugees we've already seen will become an enormous effort as time goes on if things are unchanged.
As the REDD+ community knows better than most, these symptoms of high temperature and extreme weather are going to continue to get worse and worse unless and until we make a sustained commitment to reverse the trends that have put us where we are.
The Paris agreement was a critical milestone. I know that many of you have spent decades focused on this issue and it is clear that the most comprehensive, ambitious climate change agreement in history was approved in December. So you felt a good sense of the enormity of what has finally been achieved. But – but – but everybody knows that what we did in Paris does not guarantee a cap on a 2 degrees centigrade rise in temperature. Everybody knows that Paris was a signal to the marketplace; it was a moment of 196 countries saying together, "Yes, we take this seriously, and yes, we have to do something about it," but now we have to implement the commitments that we have made.
All of us, I think, are working hard together to do that, to bring the Paris agreement in force as quickly as possible. And I congratulate and I thank Norway, the Norwegian parliament that took a major step yesterday in its domestic process when it voted to unanimously approve the ratification of this agreement. That's a big step.
My country plans to join soon and we have committed to join this year, and we encourage and are working actively to encourage other countries to do the same. But even as we proceed diplomatically, we still have a responsibility to take concrete steps every day as we move in that direction. And that is the imperative that I know brings every single one of you here today. The way the world's forests are managed, the way its land is used can make an enormous difference in whether we succeed in keeping the warming below the 2 degrees centigrade.
Consider two basic facts: First, ongoing deforestation and bad land use decisions contribute to nearly a quarter of all the world's greenhouse gas emissions today; second, reducing deforestation and doing more to preserve our forests would enable us to achieve a full third of global mitigation goals by 2030.
Trees, as you all know, are nature's own carbon capture and storage mechanism. And this is to say nothing of the extensive benefits of forest protection related to biodiversity, air quality, water quality, homeland for indigenous people, and more. So it is not acceptable that the world today is losing nearly 50 football fields' worth of forest every minute. Our mandate is clear: We have to change course and we have to inspire that change in every corner of the globe.
That is why I'm so pleased to be here today to sign, on behalf of the United States, this joint statement with Norway outlining our intent to pursue deeper and more extensive collaboration on forest and climate change.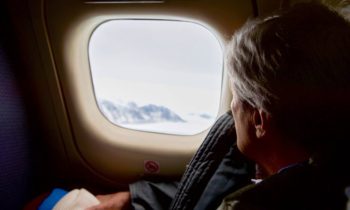 Norway is a valued partner on so many environmental challenges – can't tell you how many things we're working on. But that is particularly true on forest management, and not just because its leaders bring together so many of the world's experts and policymakers at the REDD+ forums. The policies and investments that Norway has pursued over time have made a real and a measurable impact. The Norwegian parliament has set out an ambitious vision for deforestation-free procurement. And that's on top of its recent commitment to climate neutrality by 2030.
Through the efforts that are outlined in the joint statement we have signed, the United States now looks forward to further progress in fighting deforestation and curbing greenhouse gas emissions. And together with the help of partners around the world, we will better preserve the landscapes that provide not only food, fuel, the fibers that our communities need, but also the climate mitigation and resilience benefits that are absolutely critical to our future.
Let me also underscore: The more that governments like ours can do to reinforce the commitments that we made in Paris, the more that we will amplify the message that was sent to all sectors of the globe. The entire world is moving towards a future that emits less carbon pollution, is powered by cleaner sources, and better preserves the incredible landscapes that we have been fortunate enough to inherit. All of those things are absolutely critical.
So while we know that Paris doesn't alone take us there, my bet is this: that what we have done in Paris is to send a message to the marketplace that the biggest market of the world – the biggest market the world has ever seen, in fact – is the energy market. And as all of us know, this is not a problem where we have to somehow go back to the drawing board and find the solution. We have the solution. We know what it is. We're employing it in certain places, just not enough of it. The solution to climate change is energy policy. And we have choices we know that provide clean alternative renewable energy choices. In fact, solar has now come down in price. I think Saudi Arabia just let a solar contract at about 2.9 cents per kilowatt hour, which is fully competitive against coal, oil, or other sources of energy.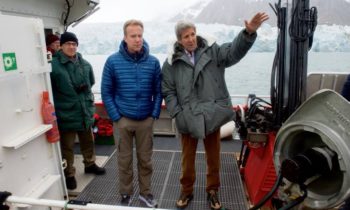 So this is a transformation that can happen, and if the private sector and governments together will begin to make the right choices and send the right signals, you're going to see a marketplace unlike any other that you've ever seen. The technology market that created the greatest wealth my country ever saw since the 1920s was the technology market of the 1990s. There was a $1 trillion market with 1 billion users – one for one – and look at the wealth that was created. Every sector of the American economy went up during those 10 years. Well, guess what? The energy market is already a 4 to 5 billion user market. It's going to go up to 9 billion users, and you're looking at literally trillions of dollars that will be invested over the next years to move to this new marketplace.
So I believe that what we are doing here is helping to keep faith with Paris, it's helping to keep faith with common sense, and it's helping to keep faith with the best hopes and aspirations of people in our countries. And I thank Minister Helgesen once again. I pledge the strongest possible support of the United States of America for actions that will safeguard our health and safeguard our planet for generations to come. Thank you. (Applause.)