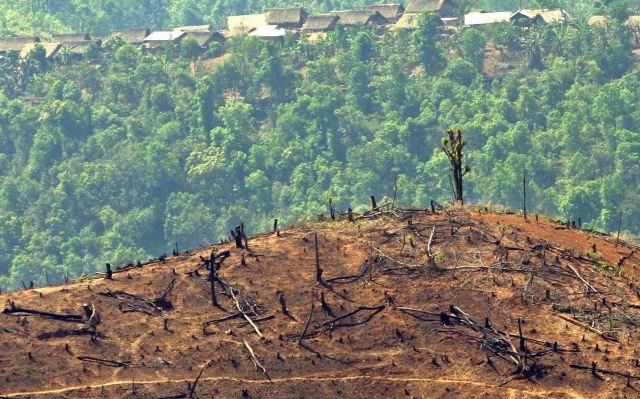 Details of a new investigation by Global Witness, has this week revealed systemic illegal logging by a major European company in the Democratic Republic of Congo, while Norway and France are on the brink of funding expansion of the country's industrial logging sector.
Global Witness said that a two-year investigation revealed that European company Norsudtimber is the biggest single owner of logging concessions covering over 40,000 km2 of rainforest in the Democratic Republic of Congo (DRC).
At the same time, Norway and France are planning to fund an US$18 million programme, which includes backing the expansion of industrial logging in DRC and support to Norsudtimber – which is headquartered in Liechtenstein. This, according to Global Witness, directly contradicts both countries' climate and forest protection goals.
Expanding industrial logging in DRC's rainforest could generate 35 million tonnes of extra CO2 emissions per year, thereby accelerating climate change.
Portugal, China, Vietnam, France and Portugal are also all said to be recipients of Norsudtimber's timber trading.
The majority of timber exports to Europe went to either Portugal or France.
Almost 60 percent of the timber exported is said to come from endangered or vulnerable tree species.
Global Witness also said in a statement that the report "Total Systems Failure" shows how a global web of secrecy is facilitating this illegal international trade whilst protecting three Portuguese brothers at the head of the company from scrutiny.
The full study can be found by visiting
https://www.globalwitness.org/en/campaigns/forests/total-systems-failure/
In the meantime, the Congo still ranks among the poorest countries in the world and is 176th out of 187 on the most recent Human Development Index calculated by the UN. It had the highest number of internally displaced people in Africa last year, with almost 2.2 million people forced from their homes. Furthermore, the country is currently in the midst of an Ebola outbreak and the risk of famine and conflict is looming large.
Back in 2009, the Portuguese branch of the environmental association WWF (World Wildlife Fund) called on the Government to implement legislation against the importation of wood that is of illegal origin after it published a report that highlights this country as one of the world's biggest importers of tropical woods.
Portugal was identified as being the Democratic Republic of Congo's most important client in terms of wood importation, as well as being the sixth biggest importer of tropical woods from Brazil, a target of environmentalists concerned about depleting rainforests.
According to WWF, the Iberian Peninsula ranks number one in Europe and the second region in the world regarding the importation of tropical woods.
Its report highlighted the non-existence in Portugal of national legislation to control this type of business.
"What we intend is that a clear difference is made between wood that we don't know from where it comes, and therefore to which there is an associated risk of it being from illegally felled trees, and wood that comes from controlled sources", said Luís Silva, head of WWF in Portugal.
He added that "there is very poor control of where wood comes from", and therefore "associated risks are very high".
"We are very confident that a high percentage of wood entering Europe is illegal", he warned.
Portugal has also faced previous criticism from Global Witness, which a decade ago had already said the country was only behind China and France in terms of imports of timber from the DRC.
Jules Caron, campaigner from Global Witness also accused Norsudtimber of "cutting down DRC's rainforest illegally and profiting from it, thanks to a secretive corporate structure relying on tax havens. It is no surprise that there is no rule of law in DRC, but it is shocking that Norway and France want to fund industrial exploitation of a rainforest and support law-breaking and emissions-producing companies, in direct contradiction of its climate commitments."
Eva Joly, Member of the European Parliament for Europe added that the revelations of the latest Global Witness report on illegal logging in the Democratic Republic of Congo are particularly worrisome.
"If President Macron really wants to 'make our planet great again' and fight climate change, he must stop all funding going to industrial exploitation of the largest untouched tropical forest in Africa", she said.
(the portugal news)