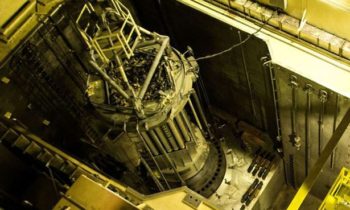 A nuclear reactor has been evacuated and shut down after it was hit with a radioactive leak.
The reactor , at a research facility in Norway, was forced to close and move all staff out after the "small" leak was found this morning.
According to the Norwegian Radiation Protection Authority, the reactor at the Institute for Energy Technology in Halden leaked radioactive iodine.
Atle Valseth, research director for the IET said: "The reactor is shut. The leak is contained."
He did not know how many staff were present when the leak occurred but said up to eight persons are allowed during this type of operation.
None were reported to have been injured.
"There is no danger to health. The radioactive dosage they have received is low," he said, adding the crew had not received hospital treatment.
NRPA director Per Strand added: "Our focus now is that IFE stopped the spill.
"We are in continuous contact with the IFE.
"We will open a new supervision relating to this incident to uncover how this could happen and why we were not notified until the day after."
Radioactive iodine, also known as I-131, is used in small doses to treat thyroid cancer.
It has also been used to treat overactive thyroid disorders.
(mirror)