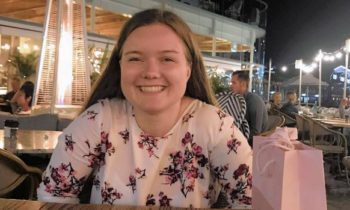 Cape Town – Atle Ostbo, father of missing Norwegian student Marie Ostbo, sits by his phone waiting for news of his daughter who went missing on a Sedgefield beach.
Ostbo refuses to give up hope that Marie will be found even though police took a decision this week to scale down search operations.
"We know there are people all over the world praying that Marie is alive and will be found alive. As long as there is hope there is life," he said.
Ostbo shares these sentiments with his wife and the 21-year-old's mother, Anna and her sister, Helene.
The family who live in Stavanger, Norway and described Marie as a warm-hearted person. "Marie is a beautiful young lady who has a burning heart for those who do not feel so good in society. She is a happy person who had plans for a long time to come," said Ostbo.
Marie went missing last Wednesday at Myoli Beach in Sedgefield. CCTV footage shows her leaving the PiliPili restaurant by herself at around 6.15pm, where she was having dinner with her tour group.
Marie is studying political science at the University of Toulouse, France and travelled with a friend from the same university for a six-day Garden Route trip.
According to the NSRI at around 6pm some of the group went for a walk on the beach and then returned at around 7pm. Marie was last seen on the beach around this time wearing blue jeans and a white shirt standing about 100m from the backpackers where they were staying.
After others in the group noticed she had not returned with them they returned to the beach to search for her but were unsuccessful.
NSRI Wilderness and Community Police joined the search at 7.40pm.
"The last time I communicated with Marie was the day before she disappeared. We exchanged pictures. We chatted with each other about how things were," said Ostbo.
He said one of the theories communicated to him was that Marie had gone into the water and might have been swept away by the current.
However, he said he believed that Marie had been abducted.
"I'm sure that Marie would never have gone bathing I have, from the first moment when I got a phone call from Sea Rescue on Wednesday night, thought that Marie would never have done it."
Police spokesperson Captain Malcolm Pojie confirmed that her cellphone, sandals and a cap were found neatly placed on the sand at the beach with no other evidence.
He also confirmed that two men had been questioned and cleared of any wrongdoing by authorities after they were seen speaking to his daughter on CCTV footage.
After intense searches by local police, NSRI Wilderness, community policing forums, emergency services, a volunteer paraglider and more, the decision was made on Thursday to scale down the search efforts with a missing persons docket opened.
"We still appeal to the surrounding communities to be on the lookout for the missing lady," said Pojie.
Anyone with information can call the investigation officer at the Knysna SAPS at 0442036600 or Crime Stop at 0860010111.