The Norwegian Ambassador to the Republic of South Sudan, Siv Kaspersen met with President Kiir to consolidate bilateral ties between South Sudan and Norway.
According to a statement released by the Presidential Press Unit, President Salva Kiir Mayardit met in his office yesterday, September 23, 2021, with the Norwegian Ambassador to discuss issues of bilateral relations between the two countries.
President Kiir acknowledged and applauded the unwavering and persistent support from the Norwegian Government .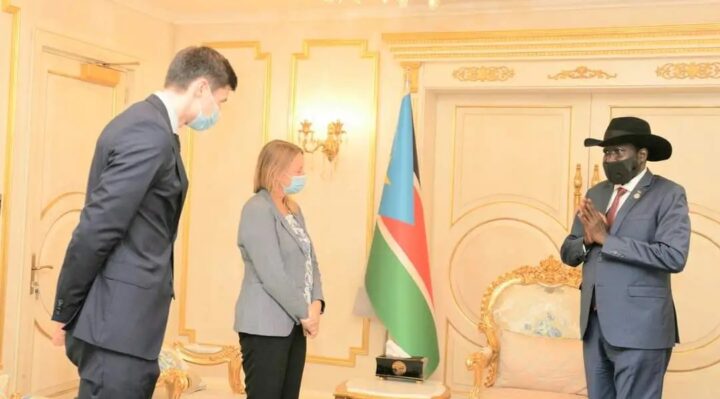 "Speaking to the media after the meeting, the Executive Director in the Office of the President Hon James Deng Wal said, H.E President Salva Kiir Mayardit told Ambassador Siv Kaspersen that he appreciates the support of Norwegian Government to South Sudan",read the statement extended to Nyamilepedia.
President Salva Kiir extended his sincere condolences also to the people of Norway upon the untimely demise of ambassador Tom Eric who Kiir described as "a friend to the people of South Sudan who played a significant role in the Naivasha peace talks of 2005" which were hosted by Kenya.
Ambassador Kaspersen aired her concern over slow implementation of the Revitalized Peace accord and calling for a peaceful settlement over ongoing conflict in Tambura County.
"On her part, Ambassador Siv Kaspersen said, she expressed concern on the progress of the ongoing implementation of the Revitalized Peace Agreement and the recent clashes in Tambura County urging for an amicable solution to attain calm and normalcy in Tambura County",the statement added.
The Norwegian Ambassador also stressed to President Salva Kiir the need for economic and security reforms in South Sudan as the only mean to avoid rampant insecurity across the country.
As member of TROIKA, a coalition of Norway, UK and US, and also on her own, Norway has stood by the South Sudanese and especially SPLM/A leadership since 1980s.