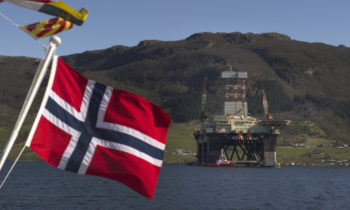 Norway will take more money from its $858-billion sovereign wealth fund to combat a deeper-than-expected economic slowdown as the drop in oil prices continues to hurt western Europe's top crude exporter. With the price of oil down 60 percent since mid-2014, Norway has raised spending from its wealth fund, the world's largest, and cut interest rates to combat falling private-sector investments and rising unemployment and to pay for an influx of refugees.
Mainland GDP growth, excluding the volatile oil and shipping sectors, is now seen at 1.0 percent in 2016, down from 1.8 percent seen in October and 2.0 percent seen in May 2015. The slowdown meant a further fiscal boost was necessary, Finance Minister Siv Jensen said. "A key priority for the government in the current situation is to support growth and employment in sectors exposed to international competition," she said. Spending of petroleum revenues, as measured by the structural non-oil budget deficit, is estimated to be 205.6 billion Norwegian crowns, up 10 billion crowns on October. This is equivalent to 7.5 percent of GDP for mainland Norway, up from 6.4 percent in 2015.
Norway's structural non-oil deficit shows how much money government spends beyond the income from mainland taxes levied on consumers and companies outside the oil industry. The deficit must be plugged through income from the oil industry and, in case this income is insufficient, with saved-up cash from the wealth fund. Analysts were divided as to how the government's policy would have an impact on interest rates, which the central bank will announce on Thursday at 0800 GMT.
All but one of 18 economists polled by Reuters ahead of Wednesday's announcement expect no change from the current key policy rate of 0.50 percent, but most have forecast that one or more cuts will come later. "This could indicate there is no longer need for more interest rate cuts," said SEB Norway chief economist Stein Bruun. Fellow economist Erik Bruce, chief analyst at Nordea Markets, disagreed. "We … stick to our forecast for two more cuts," he said. The crown weakened to 9.3627 at 1015 GMT from an intra-day low of 9.3238.
The so-called budget impulse, which measures how much the government's spending will impact economic growth, rose to 1.1 percent from 0.7 percent, among the highest levels seen in the last 15 years, the minority right-wing coalition government said. The revised budget raised the 2016 unemployment forecast to 4.7 percent from 4.5 percent and the 2017 prediction to 4.6 percent from 4.2. The government will need to negotiate a compromise with two small centre-right parties, the Christian Democrats and the Liberals. The head of Parliament's finance committee, who is also the finance spokesman for the Christian Democrats, told Reuters he expected the budget to go through after talks.