Norway is participating in the fifth Conference of States Parties to the Arms Trade Treaty in Geneva this week. During the general debate, Norway announced that it will be contributing to the Voluntary Trust Fund (VTF).
Support from this Fund is channelled to countries that need assistance to secure their arms stores, prevent illegal proliferation of conventional weapons, build the capacity of their border and customs authorities, and strengthen their export control systems. Norway is a member of the VTF Selection Committee.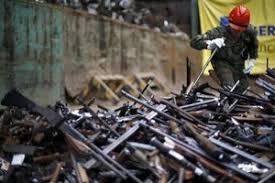 'The Arms Trade Treaty is an important mechanism for international peace and security. Norway's contribution to the Voluntary Trust Fund will help to strengthen control of the international arms trade. We will continue to promote international standards for arms trade control,' Minister of Foreign Affairs Ine Eriksen Søreide said.
During the general debate, Norway emphasised how important it is that more countries ratify the Arms Trade Treaty and support universal standards for responsible international arms trade. Norway also underlined the need for effective implementation, and highlighted the Treaty's crucial role in preventing human suffering and sexual and gender-based violence.