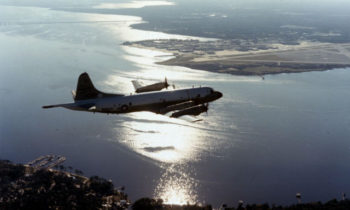 Norway has revealed a proposed defence spending plan that allows for the acquisition of a new maritime patrol aircraft (MPA) to replace its six-strong fleet of Lockheed P-3 Orions.
Presented to parliament on 17 June, the white paper recommends a gradual rise in the nation's defence budget over the 2017-2020 period to result in a NKr7.2 billion ($870 million) increase over 2016 levels.
A "substantial increase" of NKr165 billion is planned over the next 20 years to support a number of acquisitions, and is designed to counter previous under-investment and Russia's rising threat.
"Years of underfunding, combined with a high operational tempo have also created shortfalls in training, maintenance and upgrades that are no longer acceptable in the face of emerging challenges," the paper says. These must be addressed in order to improve short-term capabilities, and to prepare Norway for any future investments and challenges, it says.
"Norway will seek to replace its maritime patrol aircraft after the ageing P-3C Orion is withdrawn from service," the ministry of defence says. "A credible defence posture relies heavily on situational awareness, intelligence and an ability to conduct crisis management.
"Maritime patrol aircraft are essential in this context, and the government will introduce a plan for the replacement of the P-3 Orion to the Norwegian parliament in due course."
Potential candidates include the Boeing P-8 Poseidon, or modified transport aircraft including the Lockheed Martin C-130J Sea Hercules and Airbus Defence & Space C295.
In addition, Oslo has reiterated its commitment to a 52-unit acquisition of the Lockheed F-35.
"One such capability [being acquired] is the F-35 Lightning II with a weapons suite that includes the Norwegian-developed Joint Strike Missile," the paper says. "The acquisition of up to 52 aircraft with all the necessary equipment and infrastructure will be an essential contribution to Norwegian and allied security."
In order to make savings, a number of military facilities will be closed, including Andøya air station, home to the Royal Norwegian Air Force's 333 Sqn, which operates the P-3s.
The new MPA will therefore be co-located with the F-35s at Evenes air station, the paper says.
"While every new generation of equipment and technology allows us to do much more than the previous one, that added capability comes at a price," Ine Eriksen Søreide, Norwegian defence minister adds. "We can no longer accommodate that trend simply by buying fewer platforms or by internal efficiency savings.
"We cannot have security without sustainability. This plan aims to provide both."
Following this initial phase, an additional funding increase is planned for 2021-2026, the defence ministry says, which will ensure the implementation of new investment programmes.
(flightglobal)